Description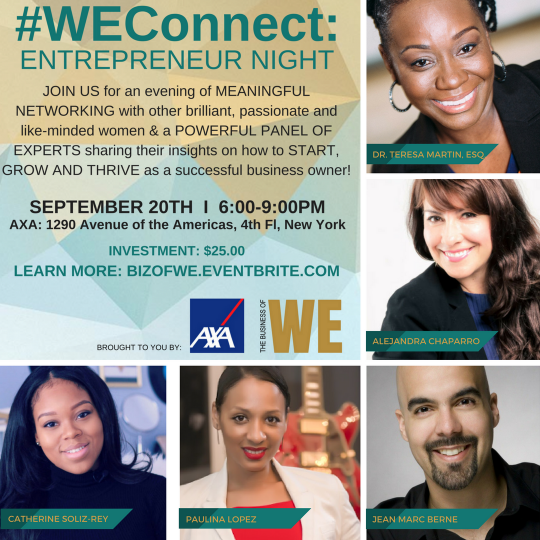 #WECONNECT: ENTREPRENEUR NIGHT (Panel Discussion)
LADIES GET EXCITED! Mark your Calendar for this amazing event for WOMEN ENTREPRENEURS being held on TUESDAY, SEPTEMBER 20TH from 6:00pm - 9:00pm in Midtown, Manhattan.
This event includes NETWORKING where you can connect with other brilliant, passionate and like-minded women, as well as a POWERFUL PANEL OF EXPERTS sharing their insights on how to start, grow and thrive as a successful business owner. You'll also get a taste of what the speaker line-up for the MUST-ATTEND business event of the year for women entrepreneurs and small business owners in the tristate area!
GIVEAWAY: One Lucky #LadyBoss will walk away with a FULL SUMMIT PASS to the The Business of WE (Women Entrepreneurs) 2016 Summit courtesy of Presenting Sponsor, AXA. For full details on the Summit go to WWW.BIZOFWE.COM.

Below in the official line-up the incredible speakers and industry thought leaders that will be presenting on the #WEConnect panel! For FULL SPEAKER BIOS go to http://bit.ly/2ce1r8A.
DR. TERESA MARTIN, ESQ.
Business Credit, Funding and Capital Made Easy
Dr. Martin, the founder of Enjoy Your Legacy, is one of the most-sought after lecturers in the industry and a competent consultant, keynote speaker, attorney, real estate investor, entrepreneur, educator, facilitator and a steward of hope as well as financial peace who deeply understands and emphasizes the importance of financial education both in business and in life.
CATHERINE SOLIZ-REY
How to Truly Stand Out & Turn Followers Into Buyers On Social Media
Catherine, creator of Fierce Hustler Brand, is your NO B.S. personal branding expert, online business strategist and self-development enthusiast. She is 100% dedicated to helping women elevate their business, brand, sales and confidence while becoming fierce, fearless and fulfilled in all areas of their life – so they can step into their potential, create a freedom-based business and live to the fullest.
JEAN MARC BERNE
The Heart Voice-Connection – Tapping Into Your Emotions to Create More Impact
Jean-Marc Berne is an Author, Voice Trainer, International Public Speaker and Singer-Songwriter. He is the Voice Over Coach of the animated series The Octonauts, which airs on The Disney Channel. He powers up people's voices to project, command confidence, engage their audiences, and connect with the heart of their stories, generating more money for their respective businesses.
ALEJANDRA CHAPARRO
Think Before You Speak: The Importance of Media Training
Alejandra Chaparro is an award-winning journalist with more than 12 years' experience in the media industry including posts in Miami, New York and Los Angeles spanning her career in the US. Alejandra launched 17 Entertainment Inc. in 2011 to provide content execution, social media, and event planning for the corporate and small business sectors. Some of her clients are Liberty Mutual, Safeco insurance, LatinLingua, LatinaCool.com and Allesig Group.
Moderated by PAULINA LOPEZ
Paulina is a best-selling author, certified speaker, and a certified life and business coach. She's a featured author in "Today's Inspired Latina" and a collaborating author in the best-selling book "Journey to the Stage." She is a founding partner for The Business of WE (Women Entrepreneurs), the New York City chapter leader for Women's Prosperity Network.
SPACE IS LIMITED... RESERVE YOUR TICKETS TODAY! INVESTMENT: $25.00
Please feel free to INVITE A FRIEND! Help us expand our network (and yours) by inviting other like-minded entrepreneurs and/or small business owners to join us at this #WEConnect Entrepreneur Night!
THE MORE OF US, THE MORE WE CAN ACCOMPLISH!