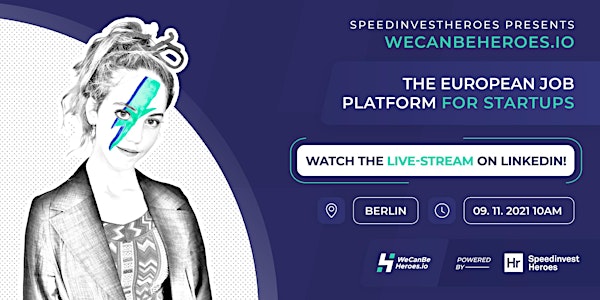 wecanbeheroes.io | the European job platform for startups
Speedinvest Heroes launches the first European platform for startup jobs
Date and time
Tuesday, November 9, 2021 · 1 - 4am PST
About this event
🙋‍♀️🙋‍♂️ If you have questions to ask during the event, that's easy peasy! All you have to do is join with this link: https://app.sli.do/event/k8vaqhgw/live/questions OR go to slido.com & enter this code: 570864
Job platforms are a common way of reaching out to new candidates and promoting job openings. Startups are emerging businesses and they need a place where they can reach out to candidates, not just locally. This is the reason behind wecanbheroes.io, the European job platform for startups.
In the new global economy, startups & scaleups have been considered key players in job creation. Approximately 45% of all jobs in Europe are generated by startups and scaleups.
We want to discuss startup needs in HR with experts and see how our job platform can help them to grow.
Lineup:
10:00 AM - 10:30 AM Keynote speech about wecanbeheroes.io | Lukas Rippitsch, MD at Speedinvest Heroes
10:30 AM - 11:30 AM Round table about hiring the right candidates in startups, job platforms, and HR pain points.
Guests:
Oliver Holle | Co-Founder & Managing Partner of Speedinvest
Antonia Neumann | Global Director People Experience at CoachHub
Mia Wähälä | Head of People at Hier.in
Anna Banicevicl | CEO & Co-founder at Zizoo
Moderator: Maria Baumgartner, Founder and MD at Speedinvest Heroes
11:30 AM - 12:00 PM Q&A with press
12:00 PM - 13:00 PM Networking
The event will be live-recorded and streamed on our LinkedIn account.
Participate and win
By registering and attending to the event, you will have the opportunity to win a yearly subscription for your startup, to post job openings for one year on our platform.
Are you a talent interested in the startup world? Participate and win the opportunity to do our "Founder Check". Discover more about your thinking style, motivators and personality traits and see if you are a startup fit!