Just featured on Good Morning Britain, NYT and BBC! WeCameToDance "is one of breakout new musicals at the 2021 Edinburgh Festival Fringe!"
About this event
(((WeCameToDance))) is, put simply, a blast!
⭐⭐⭐⭐ The Stage, The Scotsman, Edinburgh Reporter, The List, The Wee Review/Fringe Guru, Edinburgh Guide, Musical Theatre Review.
Featured on the BBC, Good Morning Britain, Al Jazeera, and in the New York Times!
"The Next Hottest Trend!" -Ruthie Fierberg, Playbill Magazine.
"WeCameToDance is an an interactive, interplanetary musical adventure [....] imparting an urgent political message while working the pulse." -Matt Wolf, The New York Times
"To my eyes (ears, arms and legs), WeCameToDance is a blast – but one that carries a serious message. The music and choreography are exuberant and uplifting." -Kelly Apter, the Scotsman
WeCameToDance is a joyful and immersive rhythm, dance and song experience with an important message about sustainability! Dance with aliens from a real exoplanet, Hanyana, reimagined with notes from NASA, who sing in their own language created by famed linguist David Peterson (developer of Valyrian, HBO's Game of Thrones). Groove to music created by Grammy-nominated Ghanaian artist Rocky Dawuni, and participate in dance designed by Broadway's Mary Page Nance and Ashley Jack of Edinburgh's House of Jack studio.
After sold out workshops with rave reviews in New York City, we hope you will join (((WeCameToDance))) by Food Tank, in partnership with House of Jack and the World Food Program USA, next at the 2021 Edinburgh Festival Fringe.
Is your preferred date and time sold out? Not to worry you can also try the Edinburgh Fringe box office and website where more tickets are available. Just click HERE!
Join us at 25 Nicolson Square Edinburgh (Fringe Venue 209)! Get your tickets now!
IMPORTANT: This is not passive entertainment. For this experience to work we need you to engage wholeheartedly -- we promise that when you do it will have a fiercely powerful impact.
Thank you to our presenting United Nations partners the International Fund for Agricultural Development (IFAD) and the World Food Program USA (WFP).
NOTE: If your preferred performance day and time is sold out here please try to book via the Fringe ticketing portal. Promo codes will only apply here and not the Fringe ticketing website.
A very special thank you to the Germeshausen Foundation, the Kroger Foundation, and Kirsten Wrinkle for making this incredible endeavor possible as well at Scotland based partners Seler8 and the Scottish Business Network. 
LET'S DO THIS SCOTLAND!
Join us...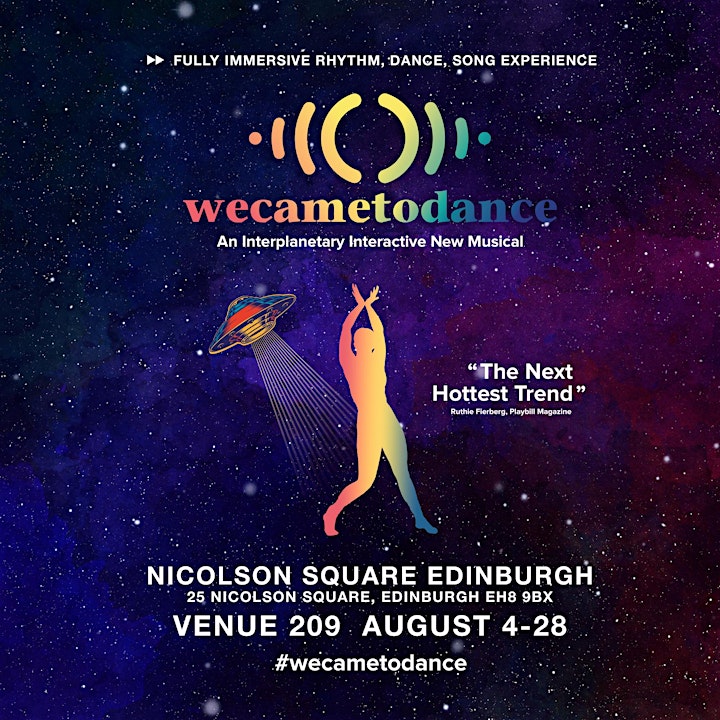 Organizer of ((WeCameToDance)) at the 2021 Edinburgh Festival Fringe