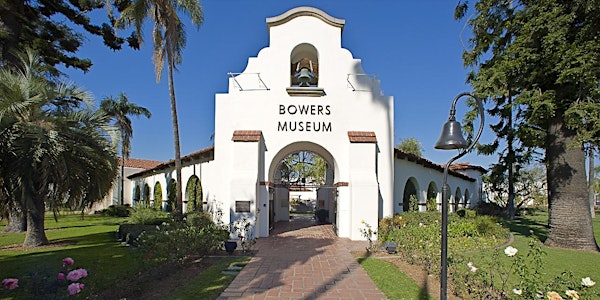 WECAD - West Coast Explorers Club Annual Dinner
The Southern California Chapter invites you to this year's West Coast Explorers Club Annual Dinner — WECAD
When and where
Location
The Bowers Museum 2002 North Main Street Santa Ana, CA 92706
Refund Policy
Contact the organizer to request a refund.
About this event
The Southern California Chapter invites you to this year's West Coast Explorers Club Annual Dinner — WECAD on the evening of June 22nd, 2019 at the Bowers Museum, located at 2002 N. Main St., Santa Ana, Ca. 92706
Hosted by Bowers President, Dr. Peter Keller, the evening begins with a wine and cheese reception in the museum's Mission-style Key Courtyard followed by a three-course dinner in the Bowers' beautiful courtyard. After dinner, a Scottish Bagpiper will pipe the guests to the Norma Kershaw Auditorium for the evening's formal program.
Honorary Member Capt. Don Walsh, will present the Ralph B. White Memorial Award for Ocean Exploration and Conservation of the Seas to the legendary Jean-Michel Cousteau.
Since first being "thrown overboard" by his father at the age of seven with newly invented SCUBA gear on his back, Jean-Michel Cousteau has been exploring the ocean realm. The son of ocean explorer Jacques Cousteau, Jean-Michel has investigated the world's oceans aboard Calypso and Alcyone for much of his life. Honoring his heritage, Jean-Michel founded Ocean Futures Society in 1999 to carry on this pioneering work. Ocean Futures Society, a non-profit marine conservation and education organization, serves as a "Voice for the Ocean" by communicating in all media the critical bond between people and the sea and the importance of wise environmental policy. As Ocean Futures Society's spokesman, Jean-Michel serves as an impassioned diplomat for the environment, reaching out to the public through a variety of media and educational programs.
Click here for Jean-Michel Cousteau's full biography.
Explorers Club President Richard Wiese will be presenting a new award created in the honor and memory of the late champion of wildlife Alan Rabinowitz. The first Alan Rabinowitz Memorial Award for Wildlife Conservation will be awarded to Joseph "Joe" Rodhe.
In recognition for his leadership in animal conservation through his creation of Disney's Animal Kingdom over two decades ago and more recently his work with James Cameron in creating Pandora – The World of Avatar. Over 65 million dollars has been contributed to wildlife conservation causes through Disney's Animal Kingdom along with educating hundreds of thousands guests about the importance of caring for  Planet Earth and all of its inhabitants. Joe and Alan were good friends, so this award is particularly significant. You can read more about Joe Rohde here, and learn about Lowell Thomas Awardee Alan Rabinowitz here.
Our key note speaker for the evening is Jim Williams, an award-winning, professionally certified wildlife biologist and has been working for Montana Fish, Wildlife and Parks for over 27 years. Jim studied mountain lion ecology for his Master's Degree on Montana's Rocky Mountain Front and has been working on mountain lion and other wildlife conservation issues in various roles ever since. Jim is the author of the recently published book Path of the Puma: The Remarkable Resilience of the Mountain Lion. Through a special and gracious arrangement with Jim's publisher, Patagonia Books, every WECAD guest will receive a signed copy of Path of the Puma. 
Vice President of Flags and Honors, Bob Atwater will be on hand to receive TEC Expedition Flag #114 from Tom Dolan, Don Dolan and George Kourounis who just returned from an expedition studying tornado behavior.
There will be several other features and even surprises during WECAD so be sure you get you ticket soon before it sells out. We will have one auction package to be sold during the evening which consists of several collectable items including a vintage ice axe signed by the late Sir Edmund Hillary.
Tickets for this event are $150 per person. There are also opportunities for additional support at the $1,000+ level. If you are interested in becoming a WECAD sponsor, please email me at ddolan@explorers.org, or call me at (949) 307-9182.
Space is limited so please purchase your ticket at your earliest convenience. If you wish to sit with anyone, please indicate the name(s) with your reservations and also email them to me at ddolan@explorers.org. Every effort will be made to honor your request. Likewise contact me if you have any dietary requests such as a vegan or gluten free meal. Thank you.
The closest airport to the Bowers Museum is SNA - John Wayne Santa Ana airport. The recommended hotel which is close to the Bowers Museum is the DoubleTree by Hilton Anaheim/Orange located at 100 The City Drive, Orange, CA 92868. We've arranged a special group rate that can be accessed here.
Guests can also call: 714-634-4500 and mention group rate: DT Complex There will be shuttle, taxi and other ride sharing transportation options available for WECAD guests. The dress code is sports jackets & tie optional for men and summer dress for women. A wrap is recommended just in case it becomes chilly during dinner in the courtyard.I look forward to seeing you at the Bowers Museum for this year's WECAD on June 22nd.
PS: If you arrive early enough, you may want to attend a special presentation and book signing by famed Egyptologist Dr. Zahi Hawass. Click here for more information. Please note that tickets to this event have been sold to the halfway point so please act fast if you wish to include this special event to your Saturday June 22nd experience.