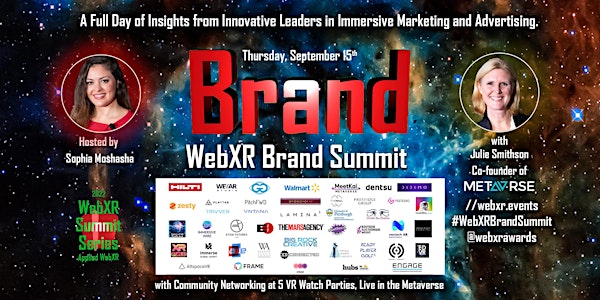 WebXR Brand Summit
REGISTER NOW, FREE for the WebXR Brand Summit Hosted by Sophia Moshasha with Julie Smithson on Immersive Marketing and Advertising.
Refund Policy
Contact the organizer to request a refund.
Eventbrite's fee is nonrefundable.
About this event
WATCH PARTIES
Frame XR Women Museum https://framevr.io/xrwomenmuseum
Engage https://app.engagevr.io/events/g3G7Q/share
Altspace Room code: RRI237
VR Land https://vrland.io/2ZrTVR/WebXR-Brand-Summit
HUBS https://hubs.mozilla.com/vdCLC4F/
Streaming
YouTube https://youtu.be/WTJKr0tK5AE Twitch https://twitch.tv/webxrsummit
Frame https://framevr.io/webxrsummit
The WebXR Brand Summit is an all-day virtual event with a long list of innovators who will share their insights on the paradigm shift of advertising in the immersive medium. Strategic discussions on a range of topics including Immersive AdTech, V-Commerce, Fashion and Luxury, Branded Events, Making your Brand Metaverse Ready, Intellectual Property, and more.
We're honored to be welcoming XR Innovation thought leaders including: Amy Peck, Tony Parisi, Alan Smithson, D.J. Smith, Kent Bye, Avi Bar-Zeev, Athena Demos, Anne-Marie Enns, Andy Fidel, Dulce Baerga, Valerie Vacante, Briar Prestidge, Veronica Costa Orvalho, Daniel Dyboski-Bryant, Karen Alexander, Gary Fearnall, Katitza Rodriguez Pereda, Aura Freeman, Vanitha Swaminathan, James Kaplan, Richard Ward, Jake Steinerman, Evan Gappelberg, Han Kim, Linda Ricci, Kiira, Benzing, Cynthia Maller, Bobby Carlton, Marco Cavalho, Celeste Lear, Benno K. Erhardt, Will Knecht, Ashley Crowder, Elijah Tai, Sonya Haskins Daria Fedko, Brian Hutchinson, Terry Proto, Samantha G. Wolfe, Tom Ffiske and more.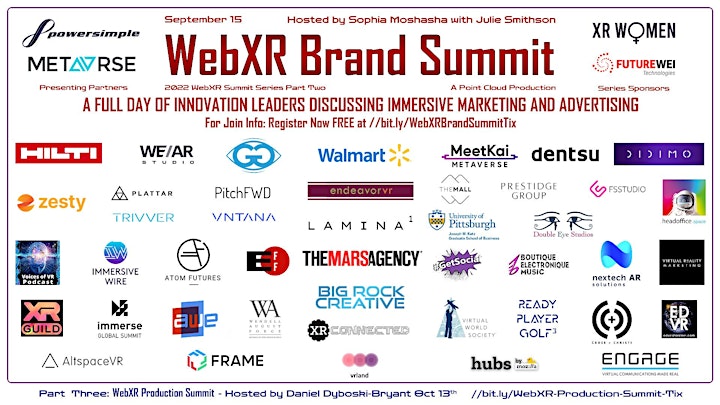 Sophia Moshasha is on a mission to accelerate the adoption of immersive & emerging technologies. Behind the scenes, on camera, and on stage, Sophia is a driving force behind numerous initiatives designed to advance education and engagement with XR across all industry sectors. Currently, Sophia holds a role on Meta's Public Policy planning team for metaverse strategies. Since 2017, she has been active in the immersive technology community serving as Vice President of the DC Chapter of the VR/AR Association's Washington, D.C. Chapter, the co-founder of XR women, a global collective dedicated to the advancement of female representation in technology, and co-founder and Chief Marketing Officer for Ready Player Golf, the first annual Virtual Reality Charity Golf Outing, which has raised money for MSF (Doctors Without Borders) and XRSI (the XR Safety Initiative). She has served as Head of Partnerships for Brightline Interactive, XR Strategist for Virtual Reality Marketing, and in Executive Program Support for AFWERX, the US Air Force's Innovation Investment Program. 
Sophia has been influencing global networks through many years of active engagement in the XR community. She has been featured on prominent media outlets such as Forbes, ABC, CGTN, American Dream TV series, and more. She holds a Bachelor of Science from Virginia Commonwealth University. As a producer of The Polys - WebXR Awards and host of its Virtual Red Carpet, Special Correspondent of the WebXR Summit Series and co-host of the VRARA podcast, Sophia has interviewed dozens of XR pioneers and innovators. As a fellow of MetaTr@versal, an initiative to advocate for cooperation among the stakeholders of the Metaverse on standards and interoperability, Sophia was the star of a 40 minute, 3-act play which was performed live on the Main Stage at Augmented World Expo 2022, which featured a cast of industry heavyweights. Sophia will host the WebXR Brand Summit on September 15.
Since the term "Metaverse" became popularized, much discussion has been focused on "what" the Metaverse is. The 2022 WebXR Summit Series is focused on "the how" of building the Metaverse. By convening the pioneers who are already working on it, it aims to inspire the many people it will take to fulfill its promise.
The WebXR Summit Series is co-hosted by Julie Smithson, co-founder of MetaVRse and co-founder of XR Women with Sophia and Karen Alexander. XR Women is a presenting partner of the WebXR Brand Summit. The WebXR Brand Summit is the fifth edition of the series focused on immersive marketing and advertising. Previous WebXR Summits were: Developer, hosted by Trevor Flowers; Business, hosted by Samantha Mathews; Design, hosted by Kent Bye; and Education, hosted by Karen Alexander. The series is produced by Point Cloud Productions, the team behind the Polys - WebXR Awards and MetaTr@versal.