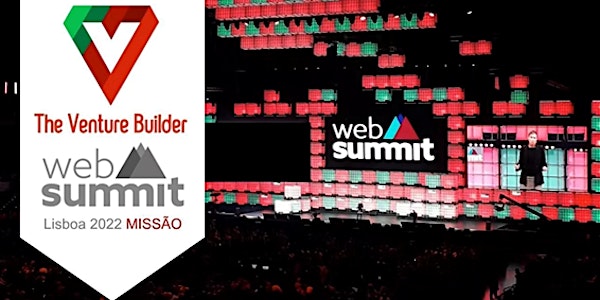 WebSummit 2022 Corporate Innovation Hub
One of the highlights of this year ́s Web Summit Mission will be our Open Innovation Programs
About this event
Neste Webinar vamos lançar o Corporate Innovation Hub Program , integrado na Web Summit Mission. Iremos ainda anunciar as novas Promoções de Softlanding disponíveis para startups que vão estar presentes na Web Summit Mission 2022 , Fundos que vão estar disponíveis para startups, e como Portugal está a fazer a mudança de paradigma no pós-pandemia, com as apostas na Economia Circular, na Transição Digital e com a Transição Climática.
Participating in this Workshop will give you ACCESS to:
FREE Mentoring
GREAT PROMOTIONS in our Softlanding Packs: Opening your Startup in Portugal and Validate your Business Model and benefit of the incredible Grants that are available for Startups.
Programa: 13:00hs Brasilia / 17:00hs Portugal
Missão Web Summit 2022
Corporate Innovation Hub,
Validação de Mercado na Europa
Novos Fundos de Investimento
Captação de Investimento;
Inscreve-te no Corporate Innovation Hub Program Aqui.
Palestrantes:
Silvio e Luiza (Neo Ventures)
Carlos e Mariana (The Venture Builder)
Programa:
17h00 - Bruno Travassos
a. Abertura e Apresentação dos oradores
17h05 – Luiza Lauro (Lider de projetos do Icon Hub)
a. O que é inovação aberta e como funciona?
b. Tipos de Inovação Aberta: Vantagens e desvantagens
c. Inovação aberta e fechada: entenda as diferenças
17h20 – Carlos Cortes (CEO da The Venture Builder)
a. Hubs de Inovação em Portugal e vantagens da Internacionalização
17h35 – Silvio Vital (Lider de projetos do Silo Hub)
a. Como implementar o Open Innovation na sua empresa e desafios?
b. Como fazem as empresas lucrarem?
c. Inovação aberta: exemplos de empresas que usam (2 empresas com visibilidade de cada um dos vossos Hubs)
17h50 – Mariana Nogueira (Country Manager Brasil da The Venture Builder)
a. Pack Missão Web Summit + Softlanding
18h00 – Debate
ENGLISH
In this Webinar we will launch the Corporate Innovation Hub Program, integrated in the Web Summit Mission 2022. We will also announce the new Softlanding Promotions available for startups that will be present at the Web Summit Mission 2022, Funds that will be available for startups, and how Portugal is making a paradigm shift in the post-pandemic, with bets on the Circular Economy , in the Digital Transition and with the Climate Transition.
Programa: 1 PM / 5PM Portugal UTC/GMT time
Web Summit Mission 2022
Corporate Innovation Hub,
Market Validation in Europe
New Investment Funds
Investment funding
Register for the Corporate Open Innovation Program Here.
One of the highlights of this year ́s Web Summit Mission will be our Open Innovation Programs matching great startups with European companies and investors. Over the coming weeks, we will be running the WebSummit Open Innovation Series Webinars as pre-WebSummit preparations.
The largest tech entrepreneurship conference on the planet is going to happen here, in Lisbon, from November 1st to 4th this year. Before that moment arrives, you will learn about everything that awaits you here in Portugal and how to make the most of it, including fundraising opportunities. With our workshops, before you even come to the event, you will get hands-on experience and be fully ready for the event. Sign up Web Summit Mission.
Get ready to attend the largest technology entrepreneurship conference on the planet! Lectures, activities, exchange of experiences, and networking are some of the advantages provided to our participants. Founders and CEOs of companies, growing startups, organisational leaders, and decision-makers come together to chart the new directions of technology entrepreneurship.
In short, this year's conference will bring over 100,000 attendees, 1,000 speakers, over 1,000 investors, 1,250+ startups, over 1,500 journalists, and over 170 countries that will be represented in Lisbon.
Take advantage now of our Early Bird Prices Web Summit Mission only until September 30th. Then prices will go up! Have a look at our Workshops as well.