Multiple Dates
Webinars: Resources for Small Businesses and M/WBEs Impacted by COVID-19
Webinars: Resources for Small Businesses (M/WBEs) Impacted by COVID-19
About this event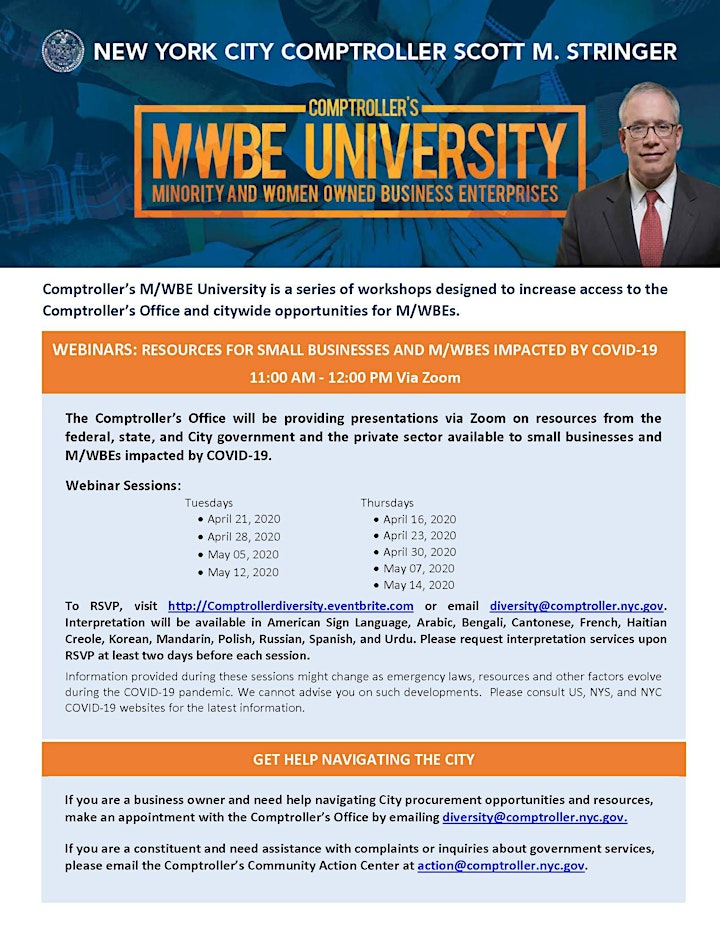 Webinars: Resources for Small Businesses (M/WBEs) Impacted by COVID-19
All webinars will take place Tuesdays and Thursdays 11am – 12pm.
The Comptroller's Office will be providing presentations via Zoom on resources from the federal, state, and City government and the private sector available to small businesses and M/WBEs impacted by COVID-19.
RSVP via Zoom
https://zoom.us/meeting/register/tJcuf-yqqDsp3jDEkmGcjSrwxuPIDracTg
or email diversity@comptroller.nyc.gov. Interpretation will be available in American Sign Language, Arabic, Bengali, Cantonese, French, Haitian Creole, Korean, Mandarin, Polish, Russian, Spanish, and Urdu. Please request interpretation services upon RSVP at least two days before each session.
Information provided during these sessions might change as emergency laws, resources and other factors evolve during the COVID-19 pandemic. We cannot advise you on such developments. Please consult US, NYS, and NYC COVID-19 websites for the latest information.
Get Help Navigating the City
If you are a business owner and need help navigating City procurement opportunities and resources, make an appointment with the Comptroller's Office by emailing diversity@comptroller.nyc.gov.
If you are a constituent and need assistance with complaints or inquiries about government services, please email the Comptroller's Community Action Center at action@comptroller.nyc.gov.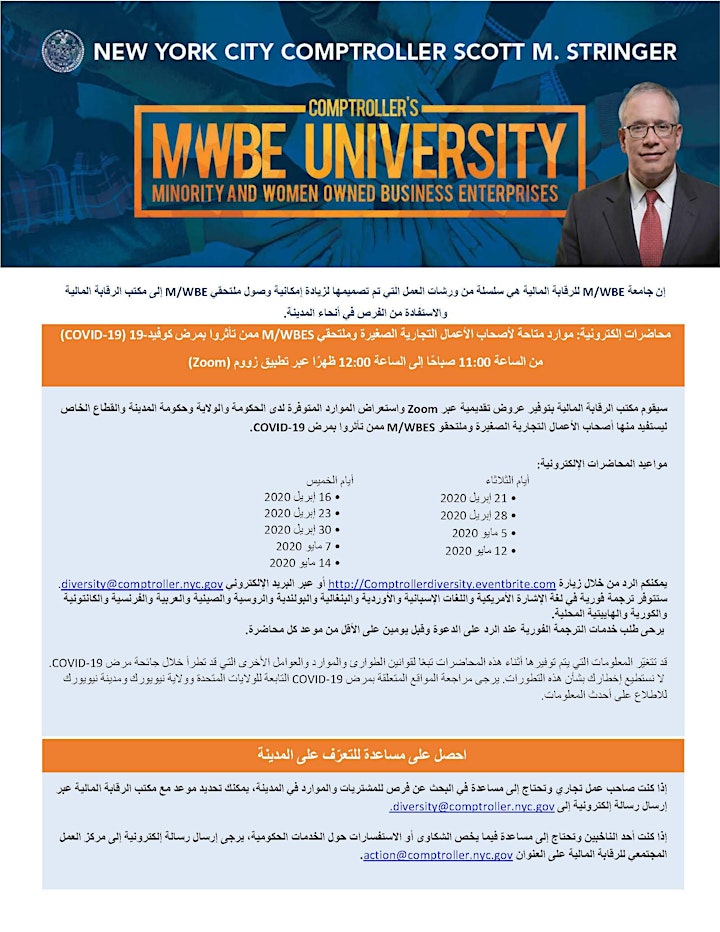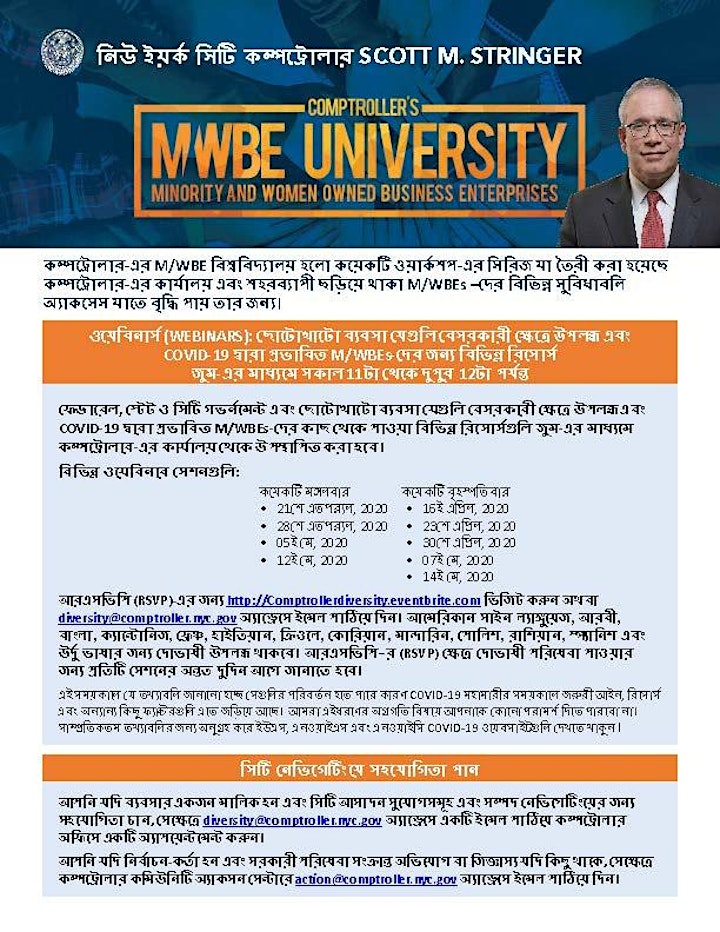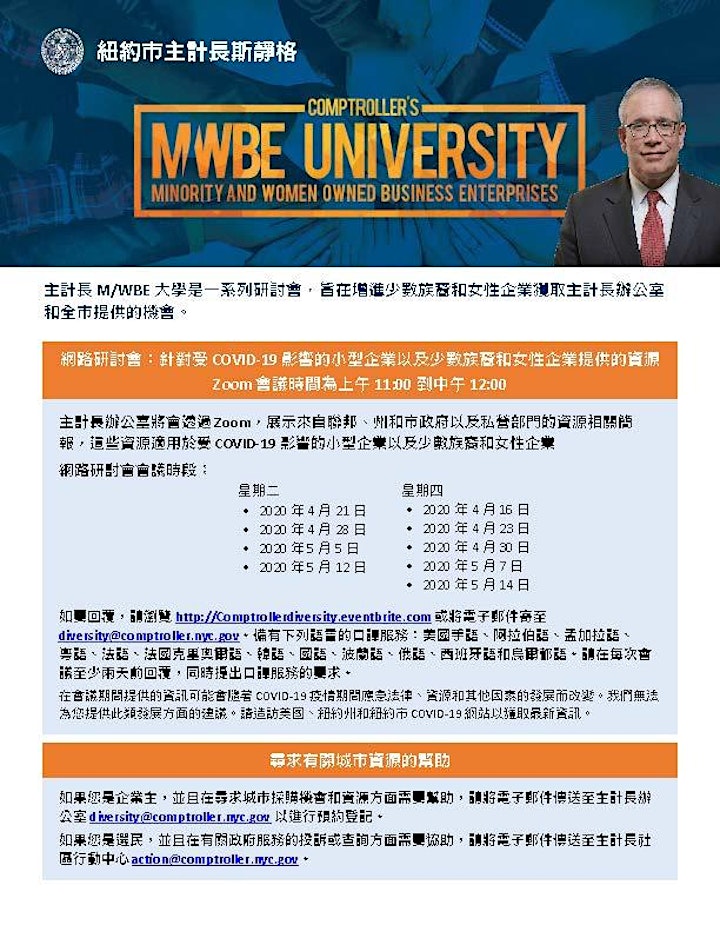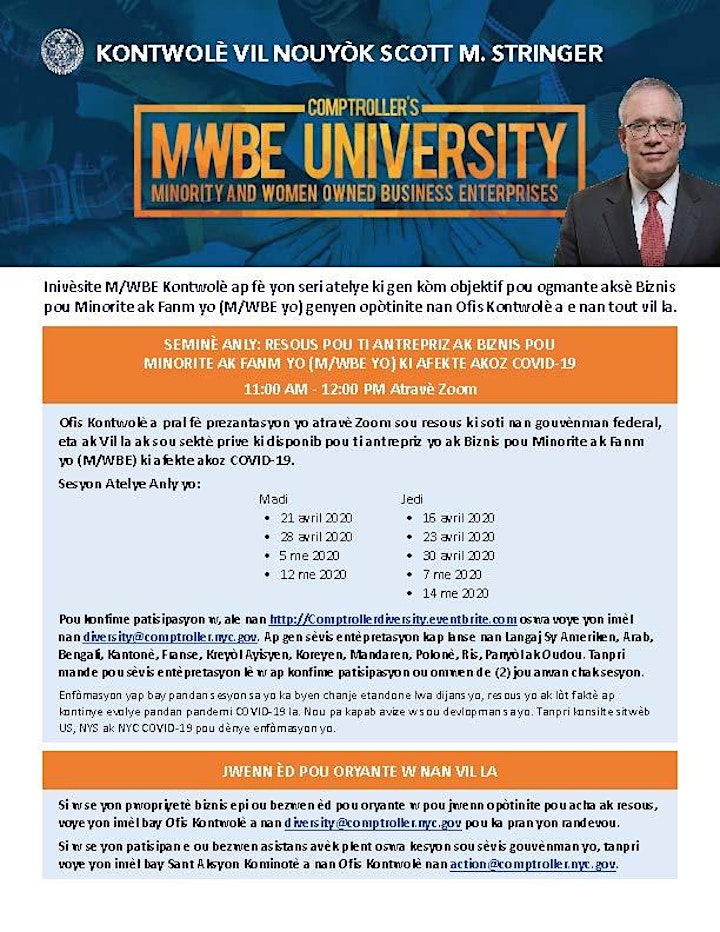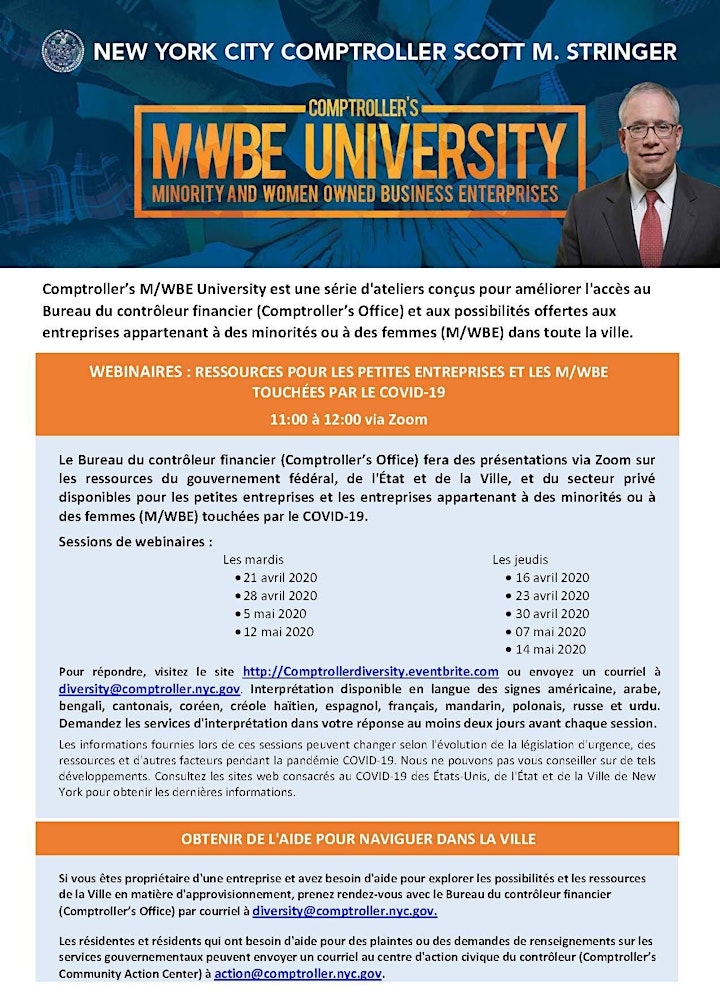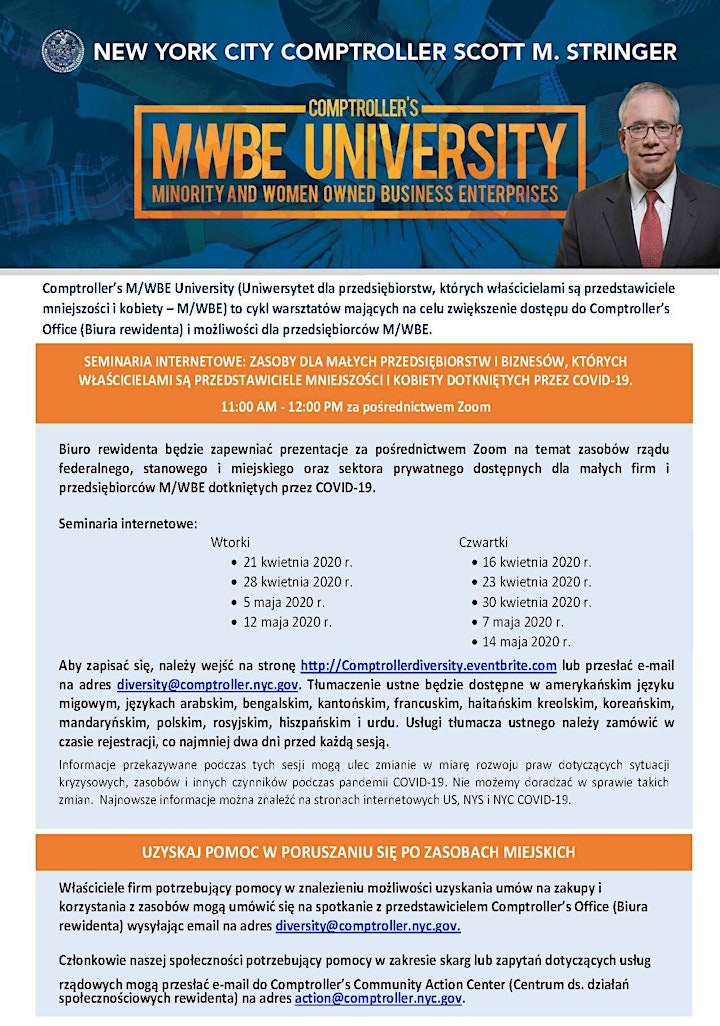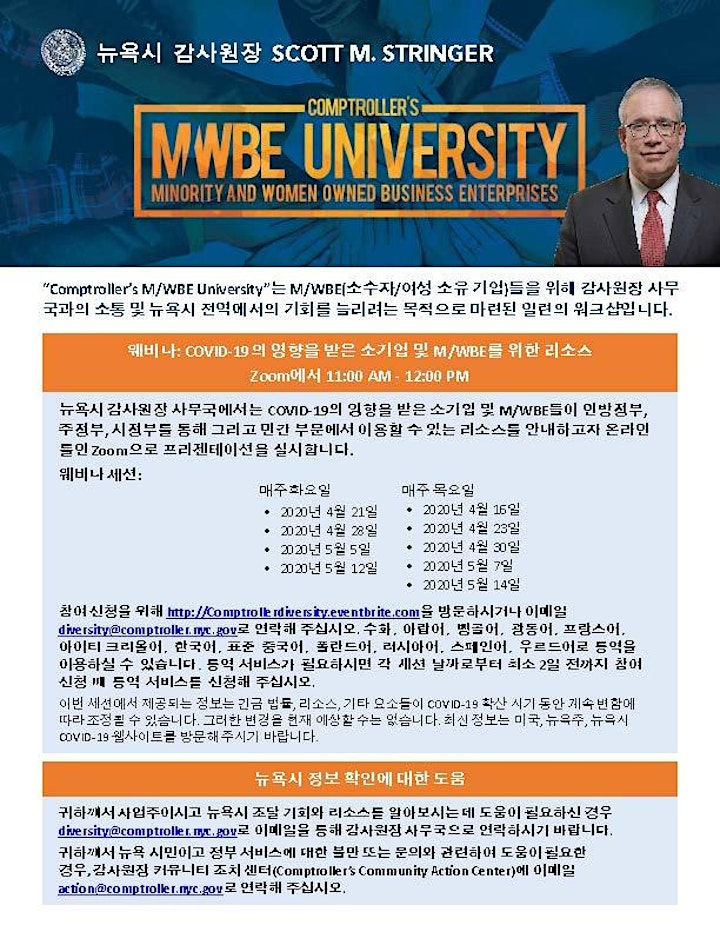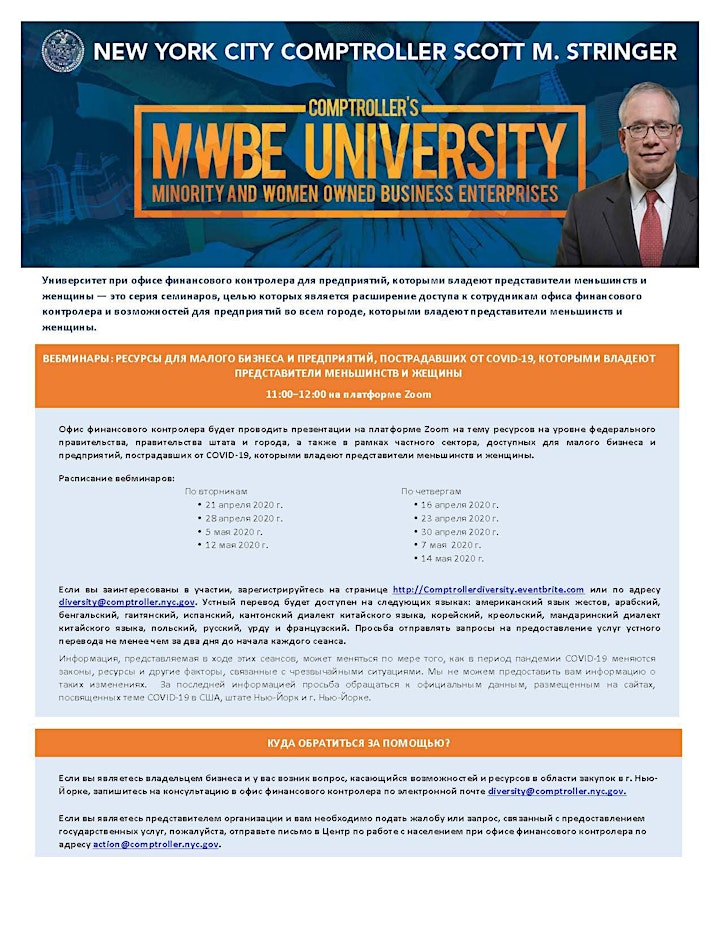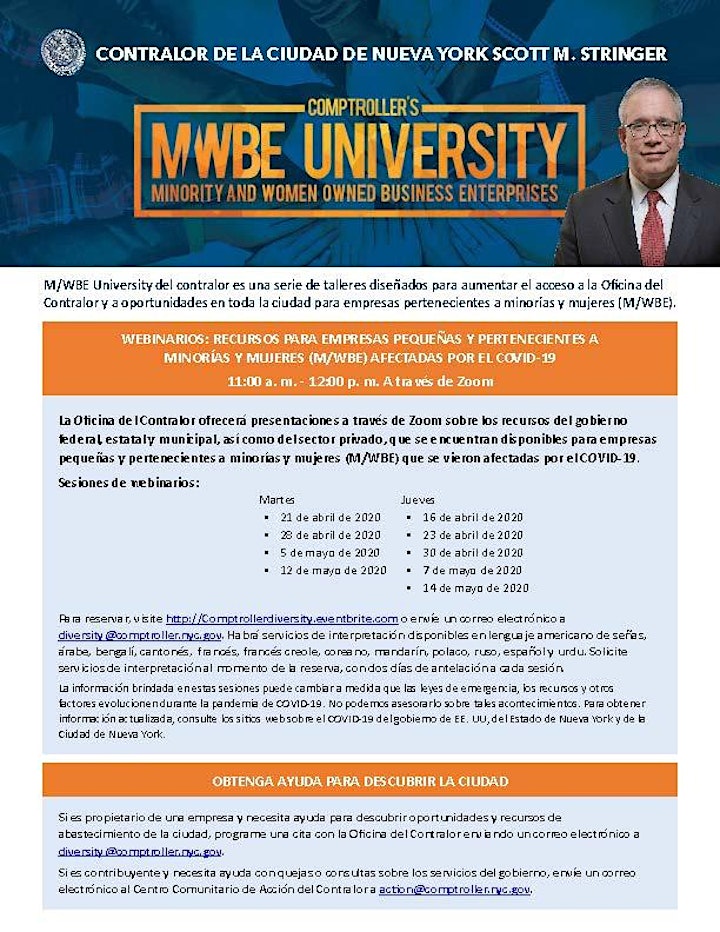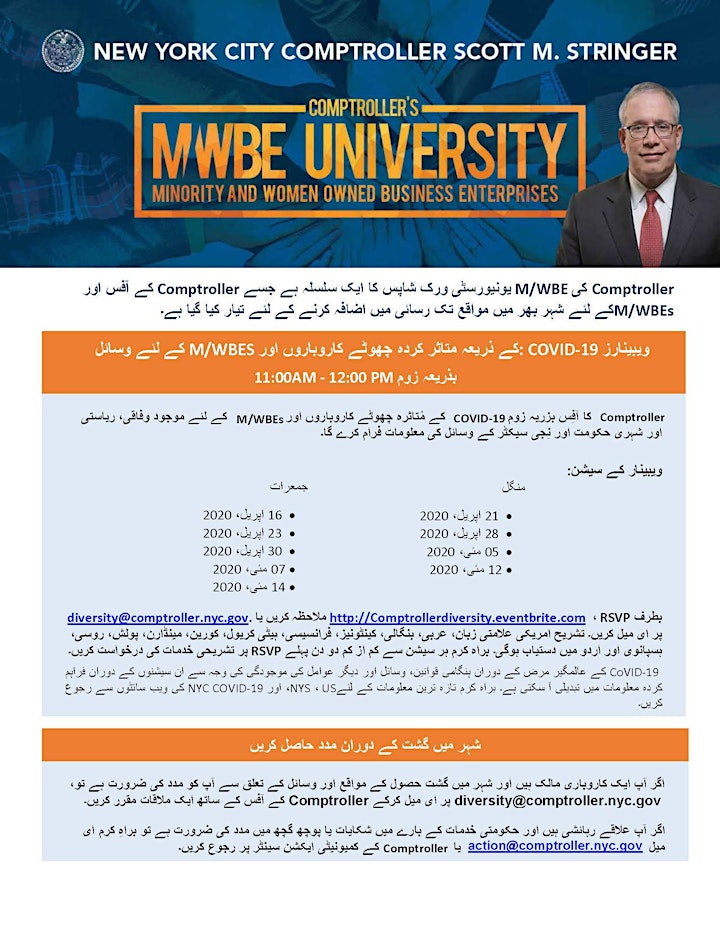 Organizer of Webinars: Resources for Small Businesses and M/WBEs Impacted by COVID-19

The Comptroller's Office of Diversity Initiatives works to develop innovative solutions that expand economic opportunities for all.
The Office focuses on assisting minority- and women-owned businesses successfully compete for public and private sector procurements which will enable them to grow, and on launching initiatives that put diversity at the heart of the way the City does business.
---
If you need interpretation services or other special accommodations, please call (212) 669-4790.