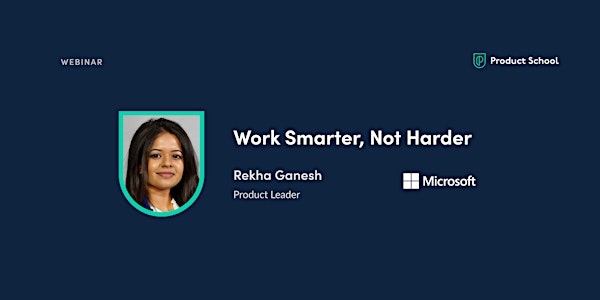 Webinar: Work Smarter, Not Harder by Microsoft Product Leader
Product School hosts free daily Product Management events with top professionals who are there to help you level up your career
About this event
DISCLAIMER: Register here to watch the stream or access the replay
Most of us have been living the remote work life for quite a while now but that doesn't mean we are all work-from-home experts. Every new day brings new challenges. Even if you've been rocking with the remote life for your whole career, let's be honest it can be a bit difficult at times.
Luckily we have an expert Product Leader willing to share their tips, tricks, and even struggles when it comes to being a remote worker in the world of Product. Come join us for this special session with Rekha Ganesh, Product Manager at Microsoft, and learn how to work closely with your team, even when you're far apart.
Main Takeaways:
Energy management over time management.
Focus on the journey, not the outcome.
Clean space = clean mind.
Come join us on Launch! Product School's exclusive community for Product People to learn, exchange ideas and build better together.
Meet the Speaker: Rekha Ganesh

Rekha is a results-driven Product Leader who specializes in Data Science and Machine Learning. She is currently working on Product at Microsoft.
The content of this event is for educational purposes only and does not include any specific facts of the presenter's current or previous company. The opinions expressed in this event are solely those of the presenter based on personal experiences and do not reflect those of the company the presenter works for.
Get the FREE Product Book here and check out our curated list of free Product Management resources here

Product School is the global leader in Product Management training with a community of over one million product professionals. Our certifications are the most industry-recognized credentials by employers hiring product managers. All of our instructors are senior-level Product Managers working at top Silicon Valley companies including Google, Facebook, Netflix, Airbnb, PayPal, Uber, and Amazon.
Disclaimer: by registering for this event I agree to receive email communications from Product School and all sponsor brands.