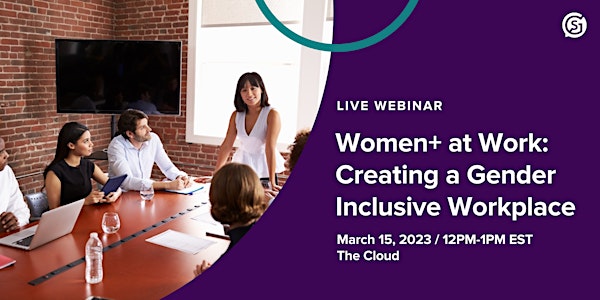 Webinar: Women+ at Work: Creating a Gender Inclusive Workplace
Join SGO Facilitator Rachel Sadler as she shares how you can create a more gender inclusive workplace.
Refund Policy
Contact the organizer to request a refund.
Eventbrite's fee is nonrefundable.
About this event
Overview:
The workplace experience, while seemingly similar, differs significantly based on a person's gender expression. In this webinar, SGO Facilitator Rachel Sadler will review the ways in which women+ experience macro and micro gender inequities including salary disparities, lack of advancement opportunities, body discrimination, and maternal penalties. She'll then share how you can create a more gender inclusive workplace, which works for everyone.
Learning Goals:
Review/compare earning statistics and career growth gaps between men and women+
Examine women+ specific micro/macro aggressions
Interrogate unspoken penalties for women+ parents
Discuss ways to move towards a more gender inclusive workplace
About the Facilitator:
Rachel Sadler advocates for educational equity with the belief that education can start to break the cycle of generational poverty. As a former classroom teacher and school leader, she has worked with students at the middle school level with successful social and academic outcomes. Her skills include coaching educators who work with underserved student populations to develop positive rapport and implement trauma-informed practices in the classroom. By working with educators, she aims to reduce racialized trauma that BIPOC students experience in schools. In addition to her work in classrooms, she understands that children are also largely impacted by their communities and lived experiences. To combat this, she facilitates DEI conversations in the academic and corporate setting to mitigate the effects of workplace trauma that often follow parents back into their homes. This includes topics such as microaggressions, race and gender discrimination, inclusive interviewing and hiring practices, and performative allyship.
Rachel has a master's degree in Lifespan & Digital Communication from Old Dominion University and a secondary concentration in Women's Studies. She is passionate about women's representation in sports and athletic spaces, working to address the intersections of gender, perception of athleticism, and acceptance. She works to dismantle the traditional ideas of what constitutes an athlete in order to create welcoming health and wellness spaces for all bodies.