Webinar with Raj Sisodia author of The Healing Organization

Monday, July 29, 2019 at 8:00 AM

-

Monday, October 21, 2019 at 3:55 PM (EDT)
Event Details
Book Review and Webinar Invitation for The Healing Organization: Awakening the Conscious of Business to Help Save the World by Raj Sisodia and Michael J. Gelb  
Invitation by: Kimberley Barker
The image of modern corporations has been shaped by a focus on profits over people and the environment, but this approach to capitalism is no longer viable.  We are at an inflection point where business must take the lead in healing the crises of our time. The Healing Organization shows how corporations can become healing forces.
Conscious Capitalism pioneer Raj Sisodia and organizational innovation expert Michael J. Gelb were inspired to write The Healing Organization because of the epidemic of unnecessary suffering connected with business, including the destruction of the environment; increasing numbers living paycheck-to-paycheck and barely surviving (despite working full-time or even multiple jobs); rising rates of depression and stress leading to chronic health problems; and because the enmity and dividedness between those who champion unfettered capitalism and those who advocate socialism is exacerbating rather than solving our problems.
Based on extensive in-depth interviews and inspiring case studies, the authors show how companies such as Shake Shack, Hyatt, KIND Healthy Snacks, Eileen Fisher, H-E-B, FIFCO, Jaipur Rugs and DTE Energy are healing their employees, customers, communities and other stakeholders. They represent a diverse sampling of industries and geographies, but they all have significant elements in common, besides being profitable enterprises:
Their employees love coming to work.

They have passionately loyal customers.

They make a significant positive difference to the communities they serve.

They preserve and restore the ecosystems in which they operate.
In a world that urgently needs healing on many levels, this is a movement whose time has come,. This book shows how it can be done, how it is being done, and how you can begin to do it too. (Publisher's Description).
Please join us for a webinar/conversation on October 10 at noon ET on this very topic! You can register for the (free) webinar right here...
Author Bios
Raj Sisodia is the FW Olin Distinguished Professor of Global Business and Whole Foods Market Research Scholar in Conscious Capitalism at Babson College. He is also Co-Founder and Co-Chairman of Conscious Capitalism Inc. Raj has published ten books, including Conscious Capitalism: Liberating the Heroic Spirit of Business, Firms of Endearment: How World Class Companies Profit from Passion and Purpose, and Everybody Matters.
Michael J. Gelb is the world's leading authority on the application of genius thinking to personal and organizational development, and the author of 16 books, including the bestseller How to Think Like Leonardo da Vinci. A pioneer in the fields of creative thinking, innovation literacy and conscious leadership, he helps organizations around the world develop more creative, innovative and conscious cultures.
Please see Raj Sisodia's latest TED talk at: https://www.youtube.com/watch?v=LWs6HFOkNEY
This book becomes available -- September 17, 2019. Pre-order yours today!!! 
https://www.christianbook.com/healing-organization-awakening-conscience-business-world/raj-sisodia/9780814439814/pd/439814?en=google&event=SHOP&kw=preorder-0-20%7C439814&p=1179710&dv=c&gclid=Cj0KCQjwj_XpBRCCARIsAItJiuQ5EkAWOR0_OiUJ3
gullgWRl2qOFG9VySsU52Yx0dm_3j4NlrazVnsaAj0pEALw_wcB#CBD-PD-Publisher-Description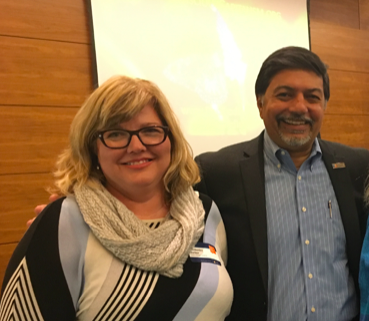 (Kimberley Barker with Raj Sisodia)
Kimberley Barker, Ph.D. received her doctorate in Organization Development from Benedictine University. She also has her MBA and BSBA from Hawai'i Pacific University. She has taught at Eastern Michigan University, Management Department, since 2015. Kimberley is a Scholar-Practitioner who wants to assist you in 'living your best life at work'! She has spent five years in Human Resources... and over 15 years in Hospital Administration. Kimberley serves as Vice President for the International Society for Organization Development and Change (ISODC). Her research interests include Global Organization Development, the Upside of Change, Cultural Competence and Dilemma Reconciliation, Conflict Resolution, Gender Equality and Inclusion, Business Communication, and Compassionate-Lean-Servant Leadership. Dr. Barker can be reached at kimjbarker@gmail.com and you can follow her on YouTube at https://www.youtube.com/user/KimJBarker/videos?view_as=subscriber.
When
Monday, July 29, 2019 at 8:00 AM

-

Monday, October 21, 2019 at 3:55 PM (EDT)
Add to my calendar
Organizer
Our vision is a world in which people work together to achieve mutually beneficial best outcomes for all and to be the leader in helping and developing OD professionals to achieve this vision.