Webinar with Dr Suzanne Doyle-Morris on "Strategic Risk Taking: The Risks that Will Help You get the Career You Want"

Monday, May 9, 2011 at 8:00 PM (BST)
Event Details
Strategic Risk-Taking: The Risks that will Help you Get the Career You Want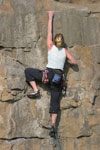 One of the key characteristics of successful women is willingness to take strategic risks.
As a coach and mentor for women wanting to move "Beyond The Boys' Club", I help women understand which risks stretch the comfort zone, and help you build the credibility, reputation and confidence you want. 
During this hour long webinar we will cover:
How to know when it's time to take a career risk to stretch yourself
How to get more mileage during interviews, conversations and appraisals of past risks
Using the challenges you have overcome & the risks you have already taken to gain leverage
What future risks can help set you apart and highlight your achievements
Why being 'stuck' in a situation or job is just inertia
How to identify if a new role is a a great challenge or a "glass cliff"
How to avoid career and mental stagnation by biting off more than you think you can chew

Which risks to avoid so you don't take on a "poisoned chalice" 
There will be plenty of time during the webinar for your questions and answers, so take the opportunity for very affordable, high-value group coaching by bringing your questions, comments and stories to this interactive session.
Places are limited, so be sure to get your space by signing up early.
This is an event for any woman in business who wants to learn how to take calculated risks to bring both professional and psychological rewards.
Have questions about Webinar with Dr Suzanne Doyle-Morris on "Strategic Risk Taking: The Risks that Will Help You get the Career You Want" ?
Contact Female Breadwinners
Organizer
Female Breadwinners
Suzanne Doyle-Morris PhD specialises in working with women in male dominated fields. She is author of "Beyond the Boys' Club: Strategies for Achieving Career Success as a Woman Working in a Male-Dominated Field" and the upcoming book, "Female Breadwinners: How They Make Relationships Work and Why They Are The Future Of The Moder Workforce"
She has worked with clients at Microsoft, Accenture, Ernst & Young, The Sanger Centre, HP, Barclays and Morgan Stanley among others. 
Suzanne earned her PhD from the University of Cambridge on gender in the workplace. She now runs Doyle Morris Coaching, and now spends her time coaching high potential women, and helping organisations develop and retain their female talent.