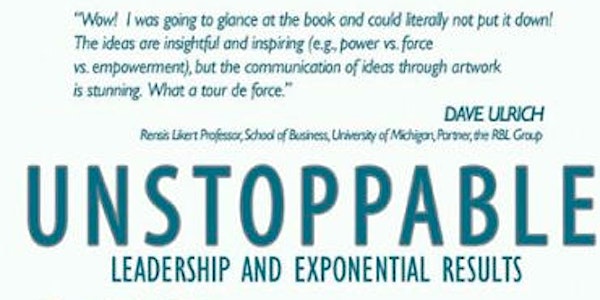 Webinar with Bjorn and Victoria Martinoff
Description
The Book: UNSTOPPABLE LEADERSHIP AND EXPONENTIAL RESULTS!

Is leadership power even scalable? For decades or even centuries, business leaders pushed for management innovations to scale the business. But how about leadership power? What is it, really, anyway?
In this book, the Martinoffs share insights and wisdom uncovered through decades of conscious work and research to understand not just leadership, power, and human potential, but how to take these great insights and expand them to the next level.
Learn about the stages of leadership power and identify where you and your organization are at right now. From there, let the distinctions help you achieve a new way of looking at evolutionary 'stages' in developing leaders.
This book is designed to be an exciting trip for you that by the last page - you will have some light bulb moments (or a busted fuse!). Guaranteed, you will know and feel something new, which you can use on your own journey to BEING UNSTOPPABLE.
Bjorn Martinoff is the Author of 'Develop Exponential Power - Stop Chasing It And Let It Chase You' recommended by Marshall Goldsmith - The Thinkers50 Award Winner sponsored by Harvard Business Review for Most Influential Leadership Thinker in the world. In 2016 Bjorn was awarded the Global Coaching Leadership Award and was named the Thought Leader of thought leaders on Bloomberg TV's series 'Thought Leaders'. Bjorn is the founder and CEO of FIC International Coaching and Development Training Services. He is a sought-after global CEO coach, business turnabout architect, consultant, keynote speaker and author.
Victoria Martinoff specializes in maximizing executive potential and performance through her coaching, consulting, training services, and on-air hosting. She has earned Master's degrees in Technology Management as well as Project Management, and a Bachelor's degree in Fine Arts specializing in Industrial Design.
The power couple has worked with the largest global companies and the world's leaders in over 40 countries. Reading the book before the webinar is recommended. Order your book today by going to the following link:
https://www.amazon.com/UNSTOPPABLE-Leadership-Exponential-Results-Martinoff-ebook/dp/B07DTG4SVS/ref=sr_1_1?ie=UTF8&qid=1540081853&sr=8-1&keywords=unstoppable+leadership+and+exponential+results
#Leadership #ExponentialResults #ISODC #InternationSocietyforOrganizationDevelopmentandChange
#UnstoppableLeadership #BjornMartinoff #VictoriaMartinoff #OrganizationDevelopment
#UnstoppableLeadershipandExponentialResults #NonfictionisSexy