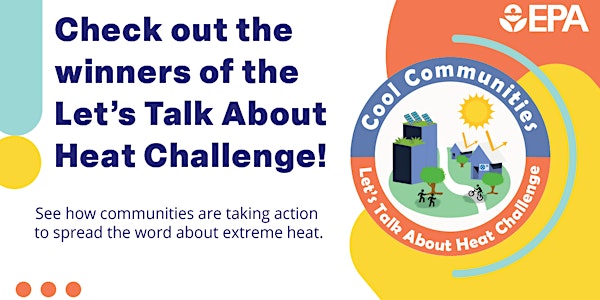 Webinar: Winners of the Let's Talk About Heat Challenge
Join this webinar to hear about the communications strategies used by challenge winners to keep their communities safe in extreme heat.
About this event
The Let's Talk About Heat Challenge winners are raising awareness of extreme heat risks for more vulnerable groups and individuals and offering tips on how to protect themselves from extreme heat.
Extreme heat can affect everyone, but it can be much worse for those with chronic conditions, including heart disease, diabetes and multiple sclerosis. Heat also has a bigger impact on children and older people – as well as people who spend more time outdoors or lack air conditioning.
Join this webinar to hear from winners as they share the their heat safety messages and learn how you can help build capacity to communicate the risks of extreme heat.