Webinar Viewing: Speak! What to Say (and Not to Say) and How to Say It - Pl...
Description

On Site Broadcast from 10:00-11:00AM
Hosted discussion and networking until 11:30AM
Attendance earns 1.0 CFRE credit
The AFP Golden Gate Live Webinar viewings are free of charge, but please register in advance. This event is an on-site viewing of the webinar, hosted discussion, and networking event. A recording of the webinar will not be made available to the attendees of this event. Those interested in viewing from their own location may find more information about purchasing options at: https://www.pathlms.com/afp/courses
---
Speak! What to Say (and Not to Say) and How to Say It
Each of us has opportunities to speak in front of people in our line of work (and in our personal lives). Whether we are sitting with a supporter one-on-one in her living room, or presenting to a Board of Trustees, the words we choose, the confidence we exude and the unspoken communication of our bodies can mean increasing a donor's belief in our cause or making them wonder why you are wasting their time. Twenty-one-year professional and TEDx speaker coach Beth Wolfer will offer an engaging, useful session to help attendees overcome fear, develop their message and deliver it with confidence.
Participants will learn how to:
Focus on one major idea
How they want their audience, or donor, to feel and how to accomplish that
What the desired next step would be following the talk


Presenter: Beth Wolfer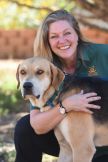 Beth Wolfer has been raising money and awareness for phenomenal causes for more than 20 years. Currently a Planned Giving Officer at Best Friends Animal Society, Beth is passionate about helping people find and express their voice. She has coached more than 50 speakers for the TEDx Salt Lake City stage including some of those who have gained the highest YouTube following in the event's history.