Webinar: Unforgettable Ramadan - Obedience, Reflection and Change
Event Information
Location
Online - http://habibihalaqas.org
Description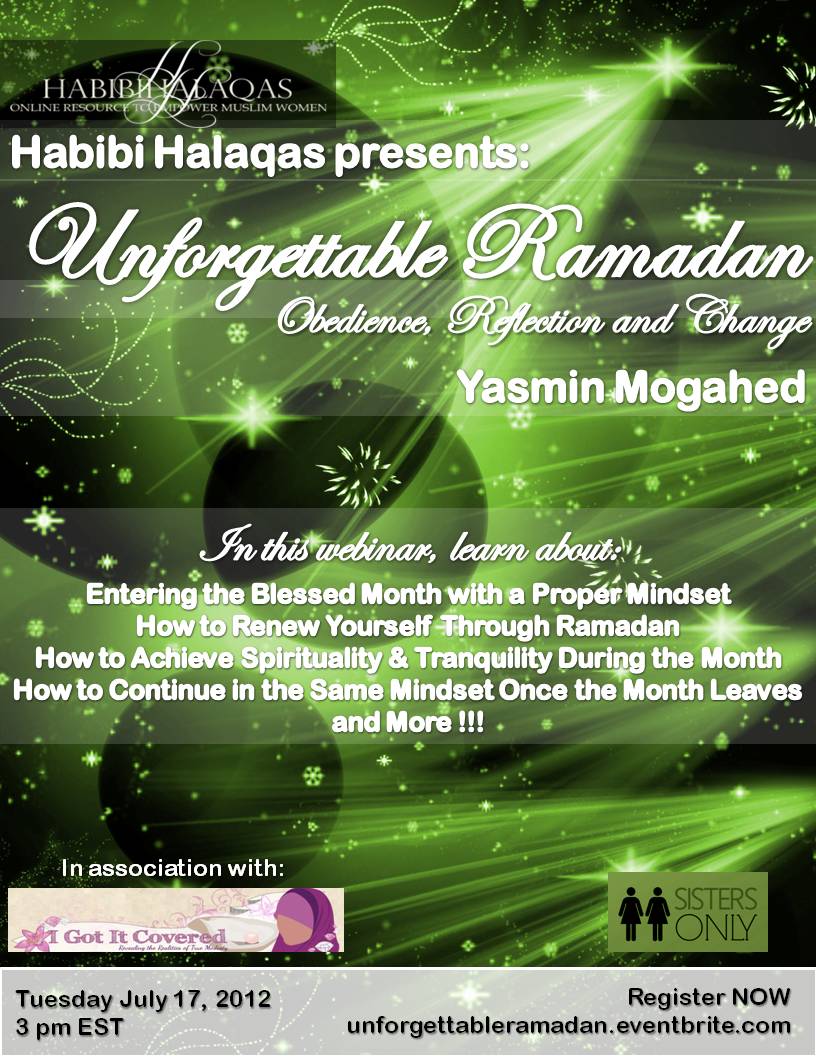 FREE ONLINE WEBINAR
Suggested Donation = $5
Donate HERE: http://bit.ly/hereisagiftforyou
Title: Unforgettable Ramadan - Obedience, Reflection and Change
When: Tuesday, July 17th 2012 in sha allah at 3:00 pm EST
After completing her graduate work, Yasmin taught Islamic Studies and served as the Sisters' Youth Director for the Islamic Society of Milwaukee. Currently she's an independent media consultant, a writer for the Huffington Post, and an author for Suhaibwebb.com, where she focuses most of her work on spiritual and personal development.
What will be covered in this webinar?
Entering the Blessed Month with a Proper Mindset
How to Renew Yourself Through Ramadan
How to Achieve Spirituality and Tranquility During the Month
How to Continue in the Same Mindset Once the Month Leaves
... and much more!
----------
This is a sisters only event
Online webcast with audio and visual presentation
----------
For maximum benefit, try your best to attend this event live.
---------
Toronto Time: 3 pm EST
Chicago Time: 2 pm CST
LA Time: 12 pm PST
Egypt Time: 9 pm EET
London Time: 7 pm GMT
---------
Date and Time
Location
Online - http://habibihalaqas.org