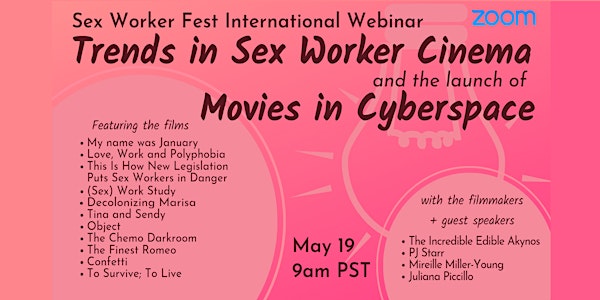 Webinar - Trends in Sex Worker Cinema: Sex Worker Fest Movies in Cyberspace
Refund Policy
Contact the organizer to request a refund.
Description
An international discussion of "Trends in Sex Worker Cinema"
and launch of our first Sex Worker Fest CyberScreening
https://zoom.us/j/6888145294?pwd=MDRoQm5MdUJxelZHbHVXV2lnbHk4Zz09
Meeting ID is 688-814-5294 but the above might work better
Videos for Cyberscreening are at cyberscreening.eventbrite.com
Join the Sex Worker Fest's Cyberscreening launch at our Webinar (on Zoom) on Sunday, May 19th at 9 am PST* (international times below.) We present a discussion of "Trends in Sex Worker Cinema" and a launch of the first "San Francisco Bay Area Sex Worker Fest CyberScreening."
For the password to the Zoom, either get a ticket above or email sexworkerfest@gmail.com. Let us know abut your support and interest in this field and we will send you the password. You can also call the festival at 415- 857-5425. Please contact us by May 18th at 6 Pm Pacific if you require closed captioning. sexworkerfest@gmail.com.

*International Times: Sunday, May 19, 2019 9:00 AM West Coast USA; 12 noon East Coast USA; 5 PM UK; 6 PM Berlin; Kolkata 9:30 PM; Bangkok 11 PM; Taipei Midnight (Sunday Night -Monday Morning); 2 am Sydney.
(Instructions and technical help for use of Zoom are at the bottom of this notice so scroll down.)
On this occasion we are eager to bring those who are interested in sex worker videos together... sex workers, curators, filmmakers, academics, students etc. (Sometimes it's all the same person!) We will be introducing our CyberScreening by providing links and inviting makers to introduce their work. We are also featuring several sex work community guest curators and scholars to offer their perspectives.

2019 Festival Movies
The submissions to the Festival this year were unusually developed and sophisticated. On this, our 20th Anniversary, we observed sex workers comfortable with the techniques of video journalism and self-representation. We observed a much greater acceptance of sex workers as "human beings" amongst film making allies, and more passion to encourage respect for us and to defend us.
The movies featured in this CyberScreening range from crucial cultural representations, to important videos that will inform sex worker rights projects around the world, to fun and bold student work, to experimental representations by sex worker artists, to brilliant sex worker self confessional and more. These movies are important to our community and we wanted to be sure to introduce them, hoping that other local festivals around the world might be interested in these works.
We hope to expand the international conversation about the exciting trends in sex worker created work, and in representation of sex workers in work by allies.

Sex Worker Fest CyberScreening (May 18-26)
Visit for details and links for movies below http://sexworkerfest.com/cyberscreening.html
(We will post all links to movies by May 18th. They will be posted until May 26th)
My name was January - Elina Gress/Lenee Son/Alex Sangha/Ash Brar
Love, Work and Polyphobia- Mariko Passion
This Is How New Legislation Puts Sex Workers in Danger - Ashley Velez/ The Root/ featuring Ceyenne Doroshow/Akynos/Mona Marie
(Sex) Work Study - Amelia Roskin-Frazee
Decolonizing Marisa - Vanessa Scully
Tina and Sendy - Mirta Puhlovski/ Hani Domazet
Object - Sydney Southam
The Chemo Darkroom - Harvey Rabbit
The Finest Romeo - Rhonda McCelland
Confetti - Lauren Levitt/Hypnoperv
To Survive; To Live - Juno Mac/Audrey Moore/SWARM/Ada Justa illustration & Woven Ink
Several works address FOSTA SESTA Resistance. We will look at how sex workers have portrayed the impacts of FOSTA SESTA in cinema. (See FOSTA SESTA movies at the Festival.)
---
Moderator:
Kelli Dorsey was born and raised in Wheaton, MD outside of the DC metropolitan area. This is where she learned harm reduction, how to organize and developed her radical analysis. She's participated in many aspects of the harm reduction community including but not limited to above ground and underground harm reduction service provision, organizing for people who trade sex and/or use drugs and importance of leadership development programming. In the harm reduction movement, her passion is centering those most marginalized especially BIPOC, transgender, gender non-confirming and queer folks have a voice and are leading the movement. She's been a sex work organizer on an international, national and locally based level in New Orleans, DC and Boston. Currently, she is President of St. James Infirmary's board.
Featured Guests:
Mireille Young-Brown
"A Taste for Brown Sugar: Black Women in Pornography" (Duke University Press, 2014) -Examines African American women's labor in pornography.
Mireille Miller-Young, Ph.D., is Associate Professor of Feminist Studies at University of California, Santa Barbara. She researches and teaches about race, gender, and sexuality in US history, popular and film cultures, and the sex industries.
Juliana Piccillo
Juliana Piccillo has been a UA professor, a journalist, filmmaker and a sex worker. Her film, I was a Teenage Prostitute, premiered in the first Tribeca Film Festival in NYC, and also screened in the Los Angeles International Short Film Festival, Women in the Director's Chair, and numerous other venues. Her writing appears in the anthology, Hos, Hookers, Call Girls and Rent Boys (Soft Skull Press, July 2009).
Movies in 2019 Sex Worker Fest: Whores on Film

Whores on Film A documentary by sex workers, that explores how they are represented in media and how these representations impact their lives. A history, homage and critique. (May 25th Roxie Cinema 2 PM)

PJ Starr
PJ Starr is a filmmaker, photographer and advocate for the rights of sex workers, immigrants and the LGBT community. Her documentary projects build community and involve skills sharing. She is the director of the award nominated feature documentary No Human Involved.
Movies in 2019 Sex Worker Fest: H'Or and FOSTA SESTA FONECALLS
The Incredible Edible Akynos
Akynos is the founder of the Black Sex Worker Collective, author, performance artist, and an educator in the fields of sexuality, HIV, and rights. As the current director of the Black Sex Worker Collective she has convened public actions in New York City for International Whores Day (June 2, 2018) and for International Sex Worker Rights Day in March 2018 in response to the passage of recent repressive Federal legislation restricting online speech, she has represented US sex workers at the International AIDS Conference in Amsterdam, and has raised funds for marginalized sex workers directly impacted by the current political climate in the United States.
She has advised other non-profit organizations including Desiree Alliance, where she has spearheaded the arts track for the national conference, and the Best Practices Policy Project, where she works on UN Policy relating to women at the Commission on the Status of Women and during the Universal Periodic Review of the human rights record of the United States at the Human Rights Council.
She is also the founder of the production company little woman. BIG HAIR through which she has developed and presented numerous creative works addressing the intersections of Blackness and sexuality including Darkie: Black Aesthetics (a multi-media variety show), THICK (a variety zaftig revue), Dark, Nude Storytellers (spoken word review) and Koffee (a burlesque troupe). Akynos has performed at the NYC Burlesque Festival, the Berlin Burlesque Festival and in many other venues. She obtained her undergraduate degree from Goddard College and is currently pursuing a Masters in Fine Art (MFA) in performance at the same institution.
She has published her work at A Kiss For Gabriela and has a co-authored peer reviewed publication forthcoming in The Handbook of Sex Work Research (Routledge, 2018). Her writings may also be found at Blackheaux.wordpress.com.
Movies in 2019 Sex Worker Fest: H'Or , FOSTA SESTA FONECALLS, This Is How New Legislation Puts Sex Workers in Danger
Marianne Chargois
Marianne Chargois is a sex worker, a performer, as well as a festival and Queer event organizer.
Her various projects link personal concrete experiences, artistic research, and feminist and political analyses around sex work. Parallel to her dominatrix activities, she performs in contemporary dance (G.Bourges, F.Chaignaud & C. Bengolea, M. Hocquemiller, P. Decouflé).
She creates with Matthieu Hocquemiller the festival Explicit, Expressions Plurielles du Sexuel (CDN de Montpellier), the festival queer sexualités dissidentes WHAT THE FUCK ? FEST***! with floZif (Cirque Electrique, Paris) and she organised the 1st edition of SNAP !, first edition of a Parisian sex worker fest which took place on 2,3,4 th November 2018 in Paris.
In 2018, she directed her first documentary film EMPOWER Perspectives de Travailleuses du sexe, a series of 3 political portraits produced in active collaboration with the 3 protagonists: Aying, Giovanna Murillo Rincon, and Mylène Juste.
---
Curators from SF Sex Worker Fest


Miki Mosman is a filmmaker who has dedicated her artistic life to topics regarding sex and sexuality as well as the empowerment of underrepresented and marginalized communities. Miki had a film show in the SWFAF in 2015 and has been proudly involved with the festival production from 2017 to present.
Bambi Katsura is a Japanese-American filmmaker and a former sex worker. They delight in pushing boundaries, exploring social justice themes, and creating inclusive works that challenge viewers and inspire change. Their work has been featured around the world in festivals including Frameline, Fringe!, the Toronto Queer Film Festival, and Hump!. They are currently working on their first feature-length documentary, Under The Red Umbrella: A Modern Account of Sex Worker Activism in the United States.
Ari Gatak Nomadic by birth, inhabiting borders, Arielle has lived between four continents with a backpack fillled with desires and interest in sexualities and their (self-) representations.
She is trained in documentary filmmaking, experienced in film programming, and started getting involved in the SWFAF after three years immersed in the San Francisco Bay Area where she met post porn activists, performers and ecosexuals of all sorts… She is currently in Marseille, where her alter ego Ari Gatak is looking for a donjon and a wig. She is also fond of photography, image-making analog technologies, sewing and crafts…
Scarlot Harlot Festival founder, whore of all trades, does a little of every kind of task, fetish, art form etc., all focused on one subject. In this case Scarlot gave support, inspiration and direction to the curators above.
---
Agenda (In Progress)
1. Moderator presents the format of 2 hour Webinar
2. Moderator Introduces Guests and SW Fest Curators for Roundtable
Scarlot Harlot discusses what kind of work the Sex Worker fest has screening over the years. See http://www.sexworkerfest.com/videos/
Roundtable: Guests will introduce themselves and address a question from Moderator, followed by a short discussion. Other participants in the audience will be asked to submit chat questions. 10-15 minutes
3. Featured Guests speak 3-5 minutes each about their work and their experiences curating
Mirelle speaks about her work and provides a summary of what she notices in this collection, the Cyberscreening movies she has watched.
PJ and Akynos discuss their work, Juliana discusses her work concerning images of sex workers in mainstream media.
Discussion: what have other participants observed in TV and mainstream meda and how has changing perspective on sex workers impacted these images.
20-25 minutes
4. Film Makers in Sex Worker Fest CyberScreening will introduce themselves and their work. Total 20 minutes
Links to movies will be provided on the chat and in advance, the day before.
5. Introduce Sex Worker Fest Curators to Discuss Trends they noticed in the material they reviewed. Total 10 minutes
6. General discussion of "Trends in Sex Worker Cinema" and the range of issues in our exploration of these genre. Total 30
---
How to Use Zoom
You may want to set Zoom up in advance. You can use the link below to do that. Download Zoom if you don't have it installed. See Zoom.pkg file and click on it. We will probably have some technical issues for the first few minutes of the call.
Zoom is very stable so it should work. Again, you need to download the app and open an account if you don't have one. When you download you will be presented with two options, one to enter a meeting ID and one to sign in. Please choose "sign in" if you don't have an account and it will allow you to create an account.
-Once you have an account, you will see a way to enter the URL or meeting ID.
https://zoom.us/j/6888145294?pwd=MDRoQm5MdUJxelZHbHVXV2lnbHk4Zz09
If you need the Meeting ID, it's 688-814-5294
-You will be asked for a password. You need to email sexworkerfest@gmail.com for that password after you g