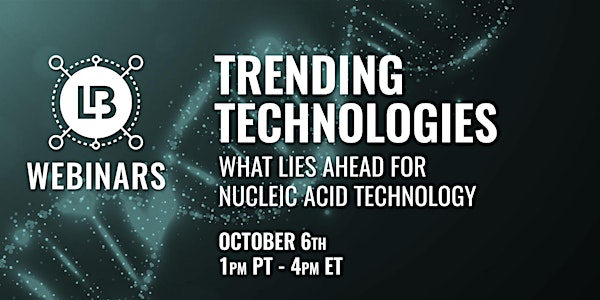 Webinar | TRENDING TECHNOLOGIES
You will receive an email with a ZOOM link when you register.
About this event
LaunchBio Webinars is a free event series open to everyone interested in building a strong support network for biotech, life science, and healthcare innovators.
TRENDING TECHNOLOGIES
What Lies Ahead for Nucleic Acid Technology
The culmination of mRNA technology research and development over the past several decades has reached a tipping point that allowed for the rapid commercialization of COVID-19 vaccines. Now, there are a flood of new indications from oncology treatments to flu vaccines that will continue to progress through the clinical process.
As we look ahead, what can we expect from this entirely new generation of medicine? How will this technology continue to evolve? What new ideas will emerge? There are many challenges to be addressed with the current mRNA technology, from efficient and cost effective manufacturing practices to room temperature stable formulations. With mRNA leading the way, new nucleic acid technologies are around the corner to unlock additional potential treatments.
Learn from experts in the field as they discuss how these challenges are being met and what lies ahead for nucleic acid technology.
SPEAKERS
Ratish Krishnan MA, Assoc. Dir. and Sr. Strategy Consultant, BioProcessing Novel Modalities (Moderator)
Frank DeRosa, PhD - CTO and Head of Research, Sanofi mRNA Center of Excellence
Nathaniel Wang, PhD, Founder and CEO, Replicate Bioscience
Julian Mochayedi, PhD, Strategic Marketing Manager for mRNA Solutions, MilliporeSigma
THANK YOU TO OUR LAUNCHBIO SPONSORS: