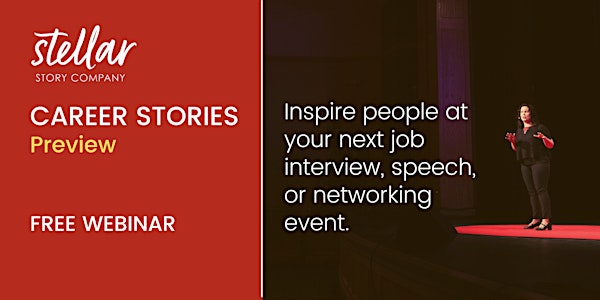 Webinar: Stellar Career Stories Overview
Learn how Stellar's program can help you advance your career
About this event
Storytelling is an essential skill for any professional. A well-told story can help you secure a new client, promotion, or the respect of an audience at a speaking engagement. Stellar's Career Stories program combines four hours of small group instruction with three one-hour private coaching sessions.
In this free webinar, learn more about the Stellar Career Stories program and how it can advance your professional life.
SCHEDULE
Tuesday, September 30, 2022
12:00-12:20 PM ET
LOCATION
Online webinar
LEARN MORE ABOUT THE PROGRAM
www.stellarstory.com/careerstories
ABOUT THE INSTRUCTORS
Our instructors and clients have experience working in corporate and nonprofit sectors in various fields, from technology to the arts.
ABOUT STELLAR
Stellar is an impact-oriented company that helps people and institutions deliver extraordinary stories and unforgettable events that lead to meaningful change. We combine our strategic communications, artistic storytelling, and DEI expertise to lead dynamic training and coaching programs. We also create opportunities for diverse voices and stories to be heard in intimate work settings or national platforms. Stellar curates and coaches storytellers among our signature programs for the national media program Stories from the Stage featured on World Channel and PBS and filmed at GBH studios in Boston.