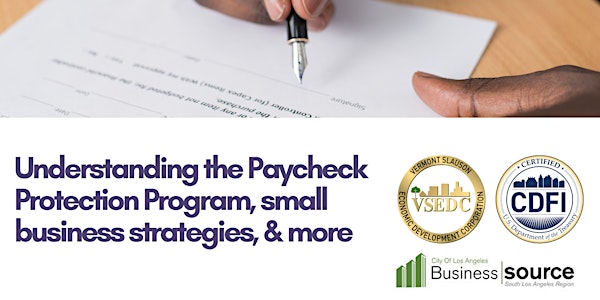 Webinar-Small Business Strategies: Navigating the New COVID19 Reality
Small Business Strategies: Navigating the New COVID19 Reality
About this event
In light of the COVID-19 crisis, there is a wide variety of emergency funding available including Paycheck Protection Program (PPP), City of LA Micro Loans, and more. Learn what you will need to apply so that you can prepare the best possible application to increase your chances for approval. This webinar also offers strategies on how to restructure your business to survive.
Topics:
Am I Eligible for PPP and/or the City's micro-loans?
What Do I Need to Apply?
Additional Business Resources
*Brought to you in partnership with the City of Los Angeles Economic and Workforce Development Department (EWDD) and South Los Angeles Business Source Center. Auxiliary Aids and services are available upon request to individuals with disabilities.
Since 1997, Adrian Veliz has served marginalized communities in both Northern and Southern CA. With over 17 years of experience with the City of Los Angeles Community Development and Economic and Workforce Development Departments, partnered with strong community ties, Adrian offers his clients a unique understanding of government processes and procedures critical to establishing and maintaining contracts with the City of Los Angeles, Los Angeles County, State, and Federal entities. He specializes in fostering change and establishing healthy, productive, sustainable models for progress within inner-cities, legacy communities, and archaic municipality constructs. Currently, Adrian is a Senior Business Strategist with the Vermont-Slauson Economic Development Corporation in Los Angeles, Ca.