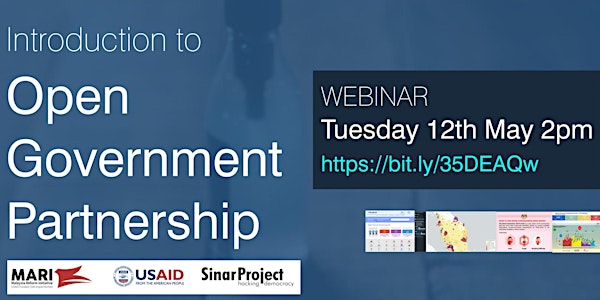 Webinar Series I: Open Government Partnership and Malaysia's Initiatives
Description
Open government is about much more than transparency and citizen participation. Collaboration between government and citizens is a key driver of development. Creating an open government, is a joint programme of the whole public sector. It includes ministries and agencies on the national level and municipalities on the local level. The main goal is to increase the trust of citizens in government and to stabilise it on a high level. This is only possible if the structures of the government and its functions, services and reforms are understandable to citizens and if participation in policy-making and service planning is feasible. Enhancing open government needs to be part of daily work and development of the public administration.
The Open Government Partnership (OGP) is a voluntary global initiative aimed at building trust and fostering collaboration between governments and their citizens to improve the development outcomes. Specifically, this initiative seeks to secure concrete commitments from governments to promote transparency, empower citizens, fight corruption, and harness new technologies to strengthen governance.
In order to encourage more public participation in Malaysia, Sinar Project is holding a webinar series to walk through every stakeholder, help them familiarize themselves with the Open Government Partnership (OGP) and the process.
We will have guest speakers from OGP, UK Government Digital Services Global Digital Marketplace Programme (GDMP) and Open Contracting Partnership (OCP) to share their expertises and experiences working in the process.
The Webinar's link will be sent to you 2 days prior to the event date.