Description
Master Class in Behavior Change
and Community Engagement
With David Gershon
David Gershon is the author of award-winning Social Change 2.0 and best-selling Low Carbon Diet, and is one of the world's foremost authorities on behavior change, community engagement and large system transformation.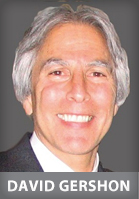 This 12-hour webinar series will be conducted live in two-hour segments every other Thursday from Oct. 9 to Dec. 18, 2014.
Sessions will begin at 9 a.m. Pacific Time (10 a.m. Mountain, 11 a.m. Central and noon Eastern). Each class is recorded so if you have to miss any sessions you have easy access to the information.

Community engagement is the "last mile" in the citizen behavior change journey. For it to work, everything preceding it must be in place. This includes a program that has proven it can achieve measurable and substantive behavior change; the integration of this program with existing outreach efforts of various government agencies, community-based organizations and local businesses; a repeatable strategy for engaging people to participate in the program; a training process that builds the competency of staff and volunteers in program and outreach delivery; a scaling strategy with metrics for measuring success; and a mechanism for social learning so all these elements can be iterated upon based on feedback. In short: a well-conceived end-to-end solution.
This is the next frontier in community engagement and its success will require a transformation in thinking and skills from traditional information campaigns which research shows at best raise awareness but do little to achieve actual behavior change.
With the future of humankind on the line because of climate change, the fact that cities generate 70% of the planet's carbon emissions with citizens' energy use to power their homes and cars representing 70% of these emissions; and with urban residents most at risk to climate-related disasters, the time could not be riper for an upgrade in a community's ability to engage its citizens.

The purpose of this Master Class is to offer a vision, successful case studies, and the strategies and tools to enable this operating system upgrade. Specifically it will help you learn the 10 core competencies needed to create an effective behavior change and community engagement initiative.
How to open people's hearts and minds to change.
How to empower residents to adopt low carbon and resource efficient lifestyles.
How to empower residents to create disaster-resilient neighborhoods.
How to create a program that achieves measurable, substantive and sustainable behavior change.
How to create a community engagement strategy that achieves deep buy-in from residents.
How to integrate existing programs and outreach efforts of government agencies, community-based organizations, utilities and local businesses.
How to design a training process that empowers staff and volunteers to effectively deliver your program and outreach strategy.
How to create and leverage neighborhood social capital to address multiple community issues.
How to create a demand driven green economic development strategy.
How to take a behavior change program and community engagement strategy to scale.
The Master Class is based on David Gershon's award-winning bookSocial Change 2.0: A Blueprint for Reinventing Our World which Fast Company magazine described as "a handbook every visionary must read … jam-packed with reality-tested tools and true life stories … rebuilding New York to make it disaster-resilient after 9/11 person-by-person and neighborhood-by-neighborhood, environmentally-friendly lifestyle change in cities across the US and around the world, the transformation of inner city neighborhoods from crime to safety—story after story, success after success—it blows preconceptions of what is possible right out of the water. David's decades of experience yield so many examples; the reader can't help but see the efficacy of his approaches, which he documents for widespread application, warts and all … if you have a vision and want to know what it takes to turn it into reality, read this book."
The Master Class provides the opportunity to work with David as part of a community of change agents and learn how to apply the Social Change 2.0 methodology to an existing or new behavior change and community engagement initiative.
Click here to download a free 1-hour webinar, which explains the research behind David's program.


WHO SHOULD ATTEND
People working in local government, community-based organizations and utilities responsible for behavior change and community engagement who wish to increase the efficacy of their current program or design a new one. This includes programs addressing: carbon reduction, energy efficiency, home retrofits, disaster resiliency, water conservation, water quality, air quality, car-pooling, car-sharing, recycling, zero waste, eco-districts, collaborative consumption, and public health.

Local government policy-makers including mayors, city managers, city planners, city council members, county and special district chief executives and supervisors wishing to engage citizens in the development of a low carbon, disaster-resilient and sustainable community.

Social entrepreneurs, community foundation executives, corporate community outreach managers, high school and university educators, and faith leaders wishing to design or increase the efficacy of a community engagement program.


Anticipated Outcomes
An upgrade of your existing education and outreach program or the creation of a new one.

Competence in applying the Social Change 2.0 behavior change and community engagement methodology.

Strategies and tools to enable transformative social change from the block to the neighborhood to the city level.


Class Format
This Master Class consists of six 2-hour online classes that take place at two-week intervals. Between classes you will read two chapters from Social Change 2.0 and discuss questions based on these chapters with an assigned partner. To help you deepen your learning and further your project you are invited to participate in an online discussion forum with other participants. Everyone participating in the Master Class is provided a free e-book of Social Change 2.0. If you prefer a hard cover copy you can purchase one from Empowerment Institute at a 20% discount.
In each class David elucidates key ideas from the assigned chapters and then applies them in an in-depth coaching session with several course participants around their behavior change and community engagement projects. These coaching sessions serve as vicarious learning opportunities for other participants facing similar issues. Further, there is an experiential exercise where you have a chance to speak with other class members to exchange ideas about your project and provide one another support. Throughout the class there is plenty of time to ask questions. The online web forum provides yet another chance to ask David questions and benefit from the collective wisdom of this learning community. This is particularly helpful as you begin applying the strategies and tools learned in the class.
Reminder: Each class is recorded so if you have to miss any you have easy access to the information.


What to Expect
This is an experiential learning journey, which means learning by doing. The learning comes from applying these hands-on strategies and tools to your unique community opportunities and constraints and getting support as you do this. It is an application of the 80/20 learning rule, which states 20% of learning comes from class time and 80% as you attempt to apply what you have learned. It also is about participation in a learning community in which everyone is encouraged to share their needs, challenges and best practices and serve as resources to one another.

Over the past 25 years that David has been traversing this path he has learned many important lessons about what works and what doesn't in designing and implementing behavior change and community engagement initiatives. He will be sharing those lessons learned, the templates to replicate this learning, the social learning process that enables this knowledge to continually be acquired (he started only with questions and not much else) and the current learning process he is embarked upon to take this knowledge to the next level of social impact and scale.

The journey will also include an exploration of the next set of questions we need to be asking and capabilities we need to be developing to build communities that can thrive in the carbon-constrained and disaster-prone world of climate change. To answer these questions we will draw upon the collective experience and wisdom of everyone participating in the class to create together these "next practices" in carbon reduction and disaster-resiliency.


Dates and Tuition
Six 2-hour sessions will be held on Thursdays, Oct. 9, Oct. 23, Nov. 6, Nov. 20, Dec. 4 and Dec. 18.
Classes will begin promptly at 9 a.m. Pacific Time, which is 10 a.m. Mountain Time, 11 a.m. Central Time and noon Eastern Time.
Cost is $599

About David Gershon
David Gershon, co-founder and CEO of Empowerment Institute, is one of the world's foremost authorities on behavior-change, community engagement and large-system transformation. He applies this expertise to issues requiring community, organizational, and societal change. His clients include cities, government agencies, large organizations, and social entrepreneurs.
He has addressed a wide diversity of issues facing cities ranging from empowering citizens to adopt low carbon and resource-efficient lifestyles, to helping neighborhoods become more resilient and livable, to designing whole system solutions that align the interests of the private, public and civic sectors with the creation of an environmentally, economically and socially sustainable community.
Over the past 30 years the empowerment programs David has designed have won many awards, and a major research study described them as "unsurpassed in changing behavior." David used this empowerment proficiency to organize at the height of the Cold War, in partnership with the United Nations Children's Fund and ABC Television, one of the planet's first major global consciousness-raising initiatives — the First Earth Run. Building on his background as the Director of the Lake Placid Olympic Torch Relay, he used the mythic power of relaying a torch of peace around the world to engage the participation of 25 million people in 62 countries, the world's political leadership and, through the media, an estimated 20 percent of the planet's population in an act of global unity. Millions of dollars were also raised as part of this event to help UNICEF provide care for the neediest children of the world.
David is the author of 11 books, including the award-winning Social Change 2.0: A Blueprint for Reinventing Our World, and the best-selling Low Carbon Diet: A 30 Day Program to Lose 5,000 Pounds that is being used by more than 300 cities in six countries. He co-directs Empowerment Institute's School for Transformative Social Change which empowers change agents from around the world to design and implement cutting edge social innovations. He has lectured at Harvard, MIT, and Johns Hopkins and served as an advisor to the Clinton White House and the United Nations on behavior change and sustainability.
David is heading up a major climate change initiative, the Cool City Challenge, which recently won the NASA/Sustainable Silicon Valley global competition as "the most outstanding solution addressing human impact on the planet." These are the criteria their expert panel used to select the Cool City Challenge: "The project must exhibit clarity of solution design, be game-changing, implementable and scalable; be a part of an integrated strategy dealing with key social, economic, environmental, policy and cultural issues; be bold, visionary and tangible, focusing on a well-defined need of critical importance; be regionally specific yet globally applicable, and backed up by a solid plan and the capability to move the solution forward."
To learn more about this initiative and the methodology you will be learning in this Master Class watch the Cool City Challenge video: http://vimeo.com/67684066.
To learn more about David and his work visit: http://www.empowermentinstitute.net



Praise for Social Change 2.0 and David Gershon

"Social Change 2.0 exhilarates. David Gershon has not just laid out a compelling and coherent blueprint for social change, but the vividly written stories he shares make us realize that what we thought was impossible can actually be achieved. Having been a political leader in Portland for twenty years, where I worked closely with David, I saw firsthand the power of his work to change the lives of thousands of people. He may well be the number one expert on social change in our country."
– Mike Lindberg, former Commissioner of Public Utilities and city council member, City of Portland, Oregon


"In Social Change 2.0 David Gershon presents an inspiring vision and a realistic roadmap for how we can reinvent our cities through empowering grassroots leaders. The proven strategies, practices and tools Gershon provides are powerful and will deliver results. I wish I'd had access to them when I was mayor."
– Graham Richard, mayor (2000 to 2007), Fort Wayne, Indiana, and author of Performance is the Best Politics: How to Create High Performance Government."


"I met David twenty years ago when he was the inspiration behind the Global Action Plan sustainable lifestyle movement. With Social Change 2.0 he demonstrates that he has lost none of his brilliance in the intervening years. I predict that this book will become the defining resource for those wishing to create sustainable, low carbon communities, and social change in general. It is a must-read for helping us traverse the challenging times ahead."
– Lawrence C. Bloom, Chairman, World Economic Forum, Global Agenda Council on Urban Management


"Social Change 2.0 is a practical and inspiring roadmap to the future we all know is possible. I know of no one more experienced to create such a roadmap than David Gershon, who has spent the past three decades empowering individuals and communities, as well as business and government leaders. I have looked forward to this book for some time to gain a deeper understanding of how David has initiated so much positive change and created so many innovative strategies to help people achieve their visions for a better world."
– Hazel Henderson, author of "Ethical Markets: Growing the Green Economy and Building a Win-Win World"


"Governments have limitations in leading complex social change, and increasingly progressive leaders are recognizing that such challenges can only be effectively addressed through the innovation and passion of grassroots people power. In Social Change 2.0, David Gershon offers us a way to draw on this power to make a difference in the saving of our planet. In doing so he argues for nothing less than a reinvention of the way we think, value, and do things. It's a big ask and it's not going to happen overnight—but Gershon offers us a compelling blueprint and a doer's toolbox of social marketing strategies and empowerment tools, which, if used by enough communities, might just get us there. Simply, he helps make our global future something we can act on."
– John Cole PH.D, Professor and Director, Centre for Sustainable Business and Development, the University of Southern Queensland, Australia, and formerly Chief Officer, Office of Clean Energy, Queensland Government


"David Gershon, a daring social architect, is what an engineer is to a bridge builder. In Social Change 2.0, David puts forth with clarity, brilliance, innovation, and passion a blueprint for sustainable societal transformation. It is a practical, inspirational, and ethical guide to initiate, maintain, and/or reignite the soul of any social movement. This book is an outstanding addition to the world."
– Brian K. Gibbs, Ph.D., Associate Dean for Diversity and Cultural Competence, Johns Hopkins School of Medicine


"As humanity faces one of the greatest transitions on which it has ever embarked, David's book brings the wisdom, inspiration, and tools to enable every one of us to become effective agents of change. Social Change 2.0 is a great book!"
– Sarah Severn, Director of Horizons and Mobilization, Nike


"If the word 'hope' has become the zeitgeist, then David Gershon's latest book is one of our bright, shining lights. It gives people a clear bridge between a positive, just, and sustainable vision for our world and the tools by which we may bring it about."
– Julian Agyeman Ph.D., Professor and Chair, Department of Urban and Environmental Policy and Planning, Tufts University


"Take a deep dive into the future with David Gershon—but, public health warning, you're likely to emerge transformed. Social Change 2.0 is for those (including the world's growing number of social and environmental entrepreneurs) intent on rewriting the current rules on our planet in favor of win-win-win outcomes for all."
– John Elkington, co-author of "The Power of Unreasonable People: How Social Entrepreneurs Create Markets That Change the World," and Co-Founder, SustainAbility


"David is a brilliant social architect who is able to see key patterns and principles between levels of change—from the individual, to the household, to the neighborhood, to the community, to cities, to states and nations, and to the entire planet. His knowledge about the process of social innovation and diffusion and his discoveries over decades of experimentation and research in large system change efforts merit serious consideration by all of us who seek a more hopeful future for our human community. His work illuminates our common yearning for connection with others, and provides the practical tools needed to achieve it at every level necessary to invent our world anew. I loved the way this book stimulated my thinking and spirit."
– Juanita Brown, Co-Founder, The World Café


"David Gershon, an unusually talented and effective organizer, has spent most of his adult life teaching people how to take control of their destinies. The world has changed dramatically during those years, and David has been astute and nimble enough to change with it. His attitudes and techniques are different today from when I first met him a quarter-century ago, though his values remain intact. Social Change 2.0 is an insightful summary of what David has learned during a career of helping to build a better world. Anyone who wants to effect change—whether to promote a global clean-tech revolution, or to organize a preschool program in their neighborhood—will find valuable truths here."
– Denis Hayes, CEO, Bullitt Foundation, and Co-Founder, Earth Day
"Social Change 2.0 is the call to a new generation of leadership, a generation that feels instinctively what David teaches explicitly: that the progress of our society requires us to rebuild our communities house by house and neighborhood by neighborhood. And this book shows us how! If enough change agents apply the highly effective strategies and tools in this book, it will be a game changer for our world."
– Rob Garrity, Executive Director, Massachusetts Climate Action Network
"I have no doubt that when earnestly applied, the lessons learned from David's inspiring book, Social Change 2.0, will prove at least as effective in today's complex and interdependent world as Saul Alinsky's social change version 1.0--Rules for Radicals--did half a century ago in much different circumstances. Social Change 2.0, because it carries us beyond today's gridlock and dominance by special interests toward a co-creative new era of operationalized hope could justifiably be re-titled Democracy 2.0."
– Gordon Dveirin, Ed.D, co-author of
Saying Yes to Change