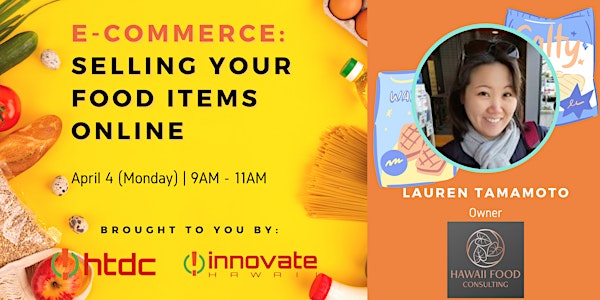 Webinar: Selling Your Food Items Online
Selling Your Food Items Online
About this event
Brought to you by INNOVATE Hawaii (HTDC), this series of webinars and workshops is designed to help Hawaii's businesses get started with their online business or enhance their e-commerce and digital marketing initiatives.
Do you know about the regulations associated with selling products online locally and to the continental United States? Join us on Monday, April 4 at 9AM to learn from Certified Food Scientist Dr. Lauren Tamamoto who will discuss local and federal laws associated with selling packaged food items online and identify label requirements for products sold in certain states (primarily California) to help you determine if your food production adheres to safety regulations. She will also provide a brief overview of the Food Safety Modernization Act and how procurement of packaging and ingredients may affect your products and documentations.
Please register by Sunday, April 3 at 5pm. After registration closes, we will send a Zoom link to all registered participants. If you face difficulties with registration, please contact Olivia at olivia@htdc.org.
The first three Hawaii-based manufacturers who register for the webinar will receive a complimentary hour of consulting with Dr. Lauren Tamamoto!
Hawaii Food Consulting
Dr. Lauren Tamamoto is a Certified Food Scientist and Certified Culinary Scientist with over 15 years of food manufacturing experience. She is the coordinator of the Culinary Innovation Center and works with local farmers and food manufacturers. She teaches courses at Kapiolani Community College including Food Innovation, Nutritional Cuisines, Modernist Cuisines and Food Science. Her expertise is in Product and Recipe Development, Nutritional Analysis, Food Safety and HACCP, and Sensory Evaluation. As Lead Instructor, she conducts trainings for FSMA Preventive Controls for Huma Foods, HACCP, and Servsafe Food Handlers and Managers.
ABOUT
INNOVATE Hawaii
INNOVATE Hawaii is the state's NIST Manufacturing Extension Partnership (MEP) National Network Center, which supports small and medium-sized manufacturers to enhance their productivity, growth, and technical performance through programs and services across the islands. www.htdc.org/programs/#innovate-hawaii
Department of Business, Economic Development & Tourism
DBEDT is Hawaii's resource center for economic and statistical data, business development opportunities, energy and conservation information, and foreign trade advantages. www.dbedt.hawaii.gov
The Business Development & Support Division (BDSD) promotes industry development and diversification in Hawaii by supporting existing and emerging industries; attracting new investment and businesses that can create more high-skilled, quality jobs in the State; increasing exports of Hawaii products and services; expanding Hawaii's participation in global trade and commerce; by supporting small business and community-based organizations; and building resiliency to downturn in defense industry spending. https://invest.hawaii.gov/
If you need an auxiliary aid/service or other accommodation due to a disability, contact Olivia at olivia@htdc.org or (808)539-3841 as soon as possible. Requests made as early as possible will allow adequate time to fulfill your request. Upon request, this notice is available in alternate formats such as large print, Braille, or electronic copy.