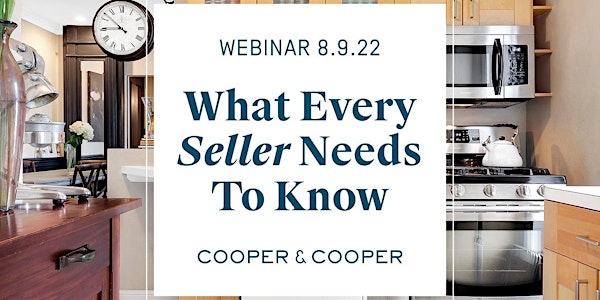 Webinar: Selling A Home In NYC: What Every Seller Needs To Know - 8.9.22
www.CooperCooper.com/SellingSeminar Use Promo Code EVENTBRITE for complimentary access.
About this event
 www.CooperCooper.com/SellingSeminar Use Promo Code EVENTBRITE for complimentary access
If you have ever considered selling a Condo, Co-op or Townhouse, or just want a great education on the selling process in NYC, feel free to join us! You can learn more and RSVP below:
Also, please feel free to share this email with any friends or colleagues you know who may be interested – all are welcome!
Hope to see you online on August 9th!
SELLING WEBINAR DETAILS:
TOPICS INCLUDE: Market Overview, The Selling Process, The Sell-Side Team, Marketing Your Home, Financial Analysis, If Sellers Only Knew & More!
WHEN: Tuesday, August 9th, 2022 :: 6:45pm: Registration / Log Into Webinar :: 7:00pm: Webinar Presentation
RSVP: Kindly RSVP at: https://www.CooperCooper.com/SellingSeminar :: Promo Code: EVENTBRITE
**A confirmation email with webinar login instructions will be sent prior to the event**
ABOUT THE SPEAKERS: Mr. Jordan Cooper, Partner: Jordan was a Top Producer at a large real estate firm for several years prior to co-founding Cooper & Cooper with his brother, Jeremy. Jordan served as an investment banker at Goldman, Sachs & Co. in the Financial Institutions Group. His deal experience includes several high-profile transactions, most notably the $3 billion demutualization & IPO of Prudential Insurance, and the $30 billion acquisition of Associates First Capital by Citigroup. Jordan graduated Summa Cum Laude from Harvard University with a degree in Economics.
Mr. Jeremy Cooper, Partner: Prior to co-founding Cooper & Cooper, Jeremy served as a Senior Associate in the Investment Banking Division at Banc of America Securities. He executed many billion dollar transactions in mergers & acquisitions, equity offerings and debt financings in the insurance sector. Jeremy worked as an on-air television meteorologist for years at ABC, FOX, and NBC affiliates. He holds degrees from Northwestern University (Environmental Science), Penn State (Meteorology), and Columbia Business School (MBA - Finance).