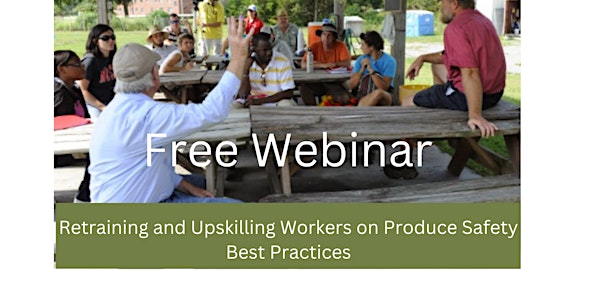 Webinar: Retraining and Upskilling Workers on Produce Safety Best Practices
From the Ground Up, Rutgers On- Farm Food Safety Webinar Series for the Busy Grower
By Rutgers On-Farm Food Safety Team
Date and time
Wednesday, April 12 · 9 - 10am PDT
About this event
Lunchtime On-the-Go On-Farm Food Safety Webinar Series for the Busy Grower
12:00-1:00, 45 min webinar, 15 min Q&A. This series is Free! Connect with computer, the mobile app, or by calling in!
You will get the link to sign on or call in a few days before the event.
Retraining and Upskilling Workers on Produce Safety Best Practices
Growers attend food safety trainings and leave with a ton of information-alot of which is expected to be taught to their employees. That task can be more manageable with some of the tips given is this webinar by Phil Tocco, Extension Educator at Michigan State University Extension.
At the end of the webinar participants will:
Understand how to verify training is working.
Discern what training is required for different employees.
Develop a process for training folks on your farm.
Deadline to register April 7, 2023