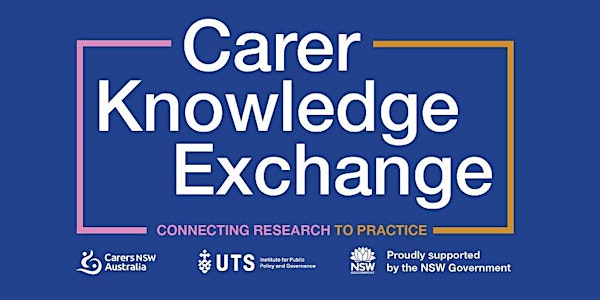 Webinar: Relationships between carer identity, identification and wellbeing
Furthering understanding of the relationship between carer identity, identification and wellbeing
About this event
This free, two-hour interactive webinar will feature emerging evidence and discussion on the impact that identity and identification has on carers' health and wellbeing.
Designed for a wide audience, evidence presented will include research findings, evidence-based practice, and the lived experience of caring.
The webinar will be interactive and enable participants to share their own ideas and experiences on the topic of carer identity.
"Carers, as a whole, it can feel like we are put into a box and lose our identity.   
We have a diversity of reasons why we care. It can be disability, frailty, mental illness, alcohol or other drug dependency, chronic conditions or terminal illness, acquired injuries and other reasons too.   
 We have a diversity of relationships with the person we care for. It can be a partner, a young child, a young adult, a parent, a grandparent, even a great-grandparent, a friend, a neighbour, a sibling, an aunt or uncle and more.  
 We need to acknowledge too the dynamics around who becomes a carer and why."  
- Glenys Petrie, carer, CKE Research Incubator 26 May 2022 
About the Carer Knowledge Exchange
The  Carer Knowledge Exchange is a partnership project delivered by Carers NSW and the Institute for Public Policy and Governance (IPPG) at the University of Technology Sydney, proudly funded by the NSW Government. The Exchange brings together carers, researchers, students, decision makers, professionals and service providers to share their knowledge about carers and learn from each other with the aim to improve outcomes for carers across Australia by connecting research to practice.
About the webinar
This interactive webinar is for anyone with an interest in connecting carer* related research to practice, including carers and former carers; academic and not-for-profit researchers; research students; policy makers and practitioners; and people who receive care.
*A carer is an individual who provides care and support to a family member or friend who lives with a disability, mental illness, alcohol or drug dependency, chronic condition, terminal illness or who is frail due to age. A person receiving care might not have received a formal diagnosis for their condition or illness.
Session Outline
2:00pm – 3.00pm: Panel speakers
Speaker 1: Jenny Nguyen (a carer's perspective )
Speaker 2: Associate Professor Ann Ugalde (a researcher's perspective)
Speaker 3: June Riemer (a policy maker or practitioner's perspective )
Short break
3:10pm – 4:00pm: Group discussion
Break out room discussion (30 mins)
- Based on the information presented today and your own experience, what does it mean to identify as a carer?
- How does identifying as a carer impact a person's wellbeing?
- What are your ideas about improving carer identification?
Whole group discussion and debrief (15 mins)
Closing guided mediation (5 mins)
E: carerknowledgexchange.admin@uts.edu.au | Ph: 02 9280 4744
For more information about the Carer Knowledge Exchange, please visit www.carerknowledgeexchange.com.au