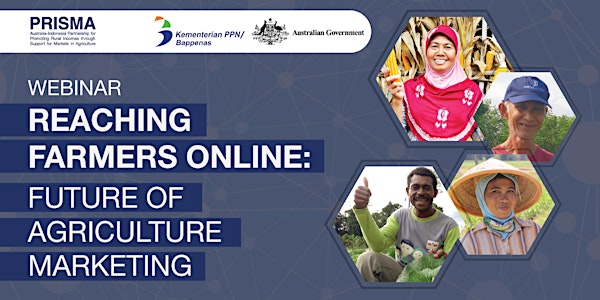 [Webinar] Reaching Farmers Online: Future of Agriculture Marketing
22 October 2020 | 10:30 AM - 12:00 PM (Jakarta Time/UTC+7)
About this event
About the Webinar
With the enforcement of COVID-19 prevention and control measures, there has been significant disruption to the agricultural supply chain which brings greater risks to business and farmers. Online marketing popularity is growing as a way to distribute input and information to farmers during and even beyond the pandemic.
So how can the agriculture market players make the most of the new opportunities?
The "Reaching Farmers Online: Future of Agriculture Marketing" webinar will offer participants information and ideas of using social media and ICT platforms to reach farmers. We will also discuss about the challenges posed by the COVID-19, prospects and impacts of online marketing in Indonesia, and PRISMA's role in promoting online marketing.
List of Speakers:
Opening Remarks:
Arifin Rudiyanto - Deputy for Maritime Affairs and Natural Resources, Bappenas
Kirsten Bishop - Minister Counsellor, Australian Embassy in Indonesia
Closing Remarks:
R. Anang Noegroho Setyo Moeljono - Director of Food and Agriculture, Bappenas
Speakers:
Goetz Ebbecke - CEO, PRISMA
Bethwyn Todd - President, FMC Asia Pacific
Kasirin Karyo - General Manager, PT Agricon Indonesia
Johannes Dwi Cahyo - CEO, Panen.ID
Mohasin Kabir - Portfolio Adviser, PRISMA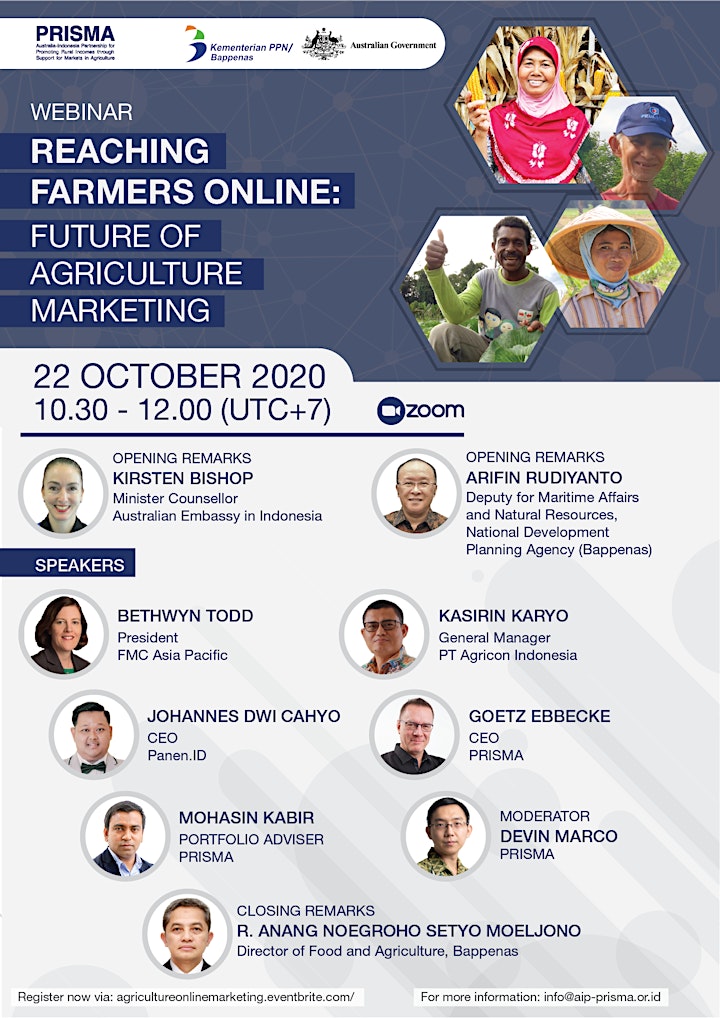 About PRISMA:
Australia-Indonesia Partnership for Promoting Rural Incomes through Support for Markets in Agriculture (PRISMA) is a multi-year development program working to accelerate poverty reduction through inclusive economic growth.