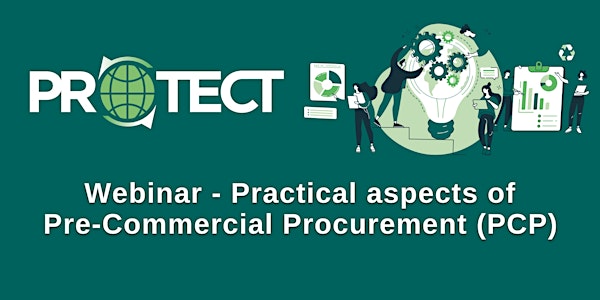 Webinar - Practical aspects of PCP
The PROTECT project is thrilled to announce the launch of its very own training curriculum on Innovation procurement and climate services.
Date and time
Tuesday, April 4 · 2 - 3am PDT
About this event
PROTECT's curriculum will explore the wide range and scope of climate services and provide a comprehensive overview of the practical and advanced aspects of pre-commercial procurement in this field. The aim of the curriculum is to provide public procurers on EU, national, regional, and local levels with practical guidance and advice on how to effectively utilize innovation procurement to address their climate-related issues.
Practical aspects of PCP. Webinar agenda:
How can public authority authorities benefit from Climate services (CS)
EAFIP step-by-step methodology: how to successfully prepare a pre-commercial procurement (PCP)
Practical examples of PCP's of CS
Lessons learned and recommendations on practical aspects of PCP
Learn more about the PROTECT training curriculum.
Follow us on social media and stay tuned to our website for upcoming announcement!
Website: https://www.protect-pcp.eu/
Twitter: https://twitter.com/EU_PROTECT
LinkedIn: https://www.linkedin.com/company/eu-protect/