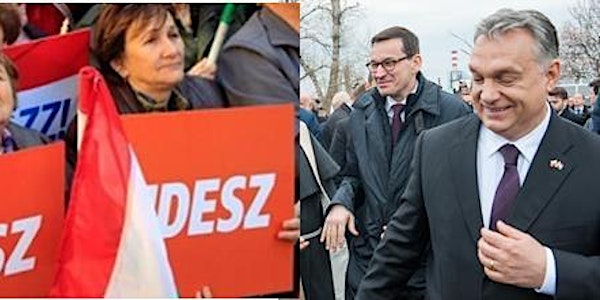 Webinar: Populism & Democratic Backsliding in Europe
This virtual panel offers a discussion of the seductive power of populism in European states and its impact on democracy
About this event
WEBINAR: Populism & Democratic Backsliding in Europe
In the EU, including in Central and Eastern Europe, populist parties of various stripes succeeded in riding a wave of anger over corruption, resentment at the outcome of the democratic transition, and anxiety about migration and the EU's principle of shared governance. Their leaders all have charismatic personalities who master the anti-establishment rhetoric to perfection and are often supported by Russia. This panel, with experts on the topic, offers a discussion of the seductive power of populism in European states and its impact on democracy in the region.
Marcel Lewandowsky, DAAD Visiting Assistant Professor at the Center for European Studies University of Florida
Noemi Marin, Professor, School of Communication and Multimedia Studies Florida Atlantic University
Martin Palouš, Senior Fellow, School of International and Public Affairs (SIPA),and Director of SIPA's Václav Havel Center for Human Rights and Diplomacy initiative, FIU
Moderator:
Markus Thiel, Associate Professor, Dept. of Politics & International Relations, Director, Miami-Florida Jean Monnet Center of Excellence, FIU
_____________________________________________________________________________________________
This event is free and open to the public and FIU students but registration is required .
► Once you register, you will receive the link to the event content and how to access to the webinar in you order confirmation email.
ONLINE EVENT
You will receive the link to the webinar in a reminder email before the event starts.
For any further information, please contact Christine I. Caly-Sanchez at calyc@fiu.edu
_____________________________________________________________________________________________
► To view flyer, click here
► To view Bios participants, click here
_____________________________________________________________________________________________
Sponsored by the Miami-Florida Jean Monnet Center of Excellence
Co-Sponsored by the European & Eurasian Studies Program-FIU, the Politics & International Relations Department-FIU, the Václav Havel Center for Human Rights and Diplomacy-FIU, the Center for European Studies of the University of Florida, Florida Atlantic University, the American University Transatlantic Policy Center, and #JMintheUS