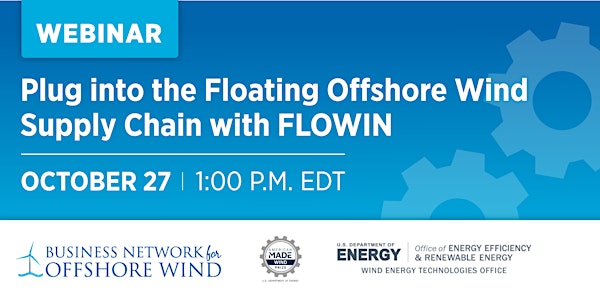 Webinar: Plug into the Floating Offshore Wind Supply Chain with FLOWIN
Learn how the Department of Energy's new FLOWIN prize can help your company plug into the emerging floating offshore wind supply chain.
About this event
Offshore wind is growing at a record pace – it is forecasted to be a $1 trillion industry by 2040. Most offshore wind resources in the United States are in deep water, including the West Coast, Gulf of Mexico, and Gulf of Maine (as well as the next generation of offshore wind leasing off the East Coast). These deep waters require floating foundations, a new technology in the offshore wind industry. As the market for floating offshore wind begins to emerge on a global level, there is an unprecedented opportunity for U.S. businesses to establish themselves as leaders in the floating offshore wind market.
Join the Business Network on Thursday, October 27, from 1:00 to 2:30 p.m. EDT for an informational webinar about supply chain opportunities in floating offshore wind and the manufactured and fabricated products required in this emerging market. Staff from the Department of Energy (DOE) will also share an overview of the new American-Made FLoating Offshore Wind ReadINess (FLOWIN) Prize. The goal of the prize is to help unlock the potential of cost-effective floating offshore wind turbines. This is the first-ever prize from DOE's Wind Energy Technologies Office.
The Business Network is a proud partner of the FLOWIN Prize competition. The webinar will also include a half hour of networking at the end for companies interested in meeting with potential partners. DOE and Network staff will share an overview of qualifications, the timelines, and the three prize phases of the competition. Learn how your company can enter the competition and receive feedback and mentoring throughout the process. Winners from each phase will earn awards from a total cash pool of $5.75 million.
This webinar is free, but advance registration is required.
Additional Details about the FLOWIN Prize:
From the Department of Energy's FLOWIN website:
About two-thirds of the nation's offshore wind resource potential can be found in water depths over 60 meters—areas where floating offshore wind turbines are more practical and cost effective than fixed-bottom turbines. The FLoating Offshore Wind ReadINess (FLOWIN) Prize aims to help unlock this potential.
The first-ever prize from DOE's Wind Energy Technologies Office, the FLOWIN Prize will help pave the way for the cost-effective domestic manufacture and deployment of commercial utility-scale floating offshore wind energy turbines in U.S. waters. This three-phase competition invites designers, fabricators, and project site developers to tackle some of offshore wind energy's biggest challenges related to supply chains and large-scale execution.