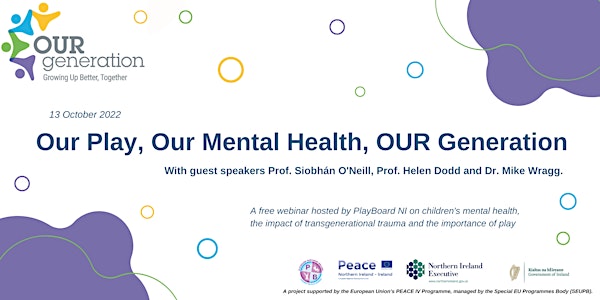 Webinar: Our Play, Our Mental Health, OUR Generation
A webinar hosted by the OUR Generation Project at PlayBoard focusing on children's mental health.
About this event
The 10th of October 2022 marks World Mental Health Day. Join PlayBoard NI to mark this occasion, and to celebrate the OUR Generation Project, on Thursday the 13th of October, 10am-12.00pm during this online webinar.
We will be joined by a panel of leading experts during this webinar who will explore themes and topics relating to children's mental health and play, and how adults can support children in their lives, whether it be in a professional or personal capacity.
The webinar will also, in line with the aims of the OUR Generation Project, explore the impact of transgenerational trauma on children and highlight how this manifests itself specifically in the context of post-conflict Northern Ireland.
We are delighted to announce that we will be joined by three speakers during this webinar.
Professor Siobhán O'Neill - We are delighted to announce that our key note speaker for the day will be Professor Siobhán O'Neill, the Mental Health Champion for Northern Ireland. As Professor of Mental Health Sciences at Ulster University her research programmes focus on trauma, mental illness and suicidal behaviour in Northern Ireland. Prof. O'Neill has a special interest in the transgenerational transmission of trauma and will join us today to share her expertise on this subject, as well as speak about the OUR Generation Project.
Professor Helen Dodd - Helen Dodd is Professor of Child Psychology in the College of Medicine and Health (CMH) at the University of Exeter. Prof. Dodd is a leading expert in the UK on child mental health and has received awards from both the Anxiety Disorders Association of America (ADAA) and the British Psychological Society (BPS) for her research on development of childhood anxiety disorders. Prof. Dodd is a public advocate for play and has over the last few years focused her research on the impact of play on children's mental health. Prof. Dodd will join us during this webinar to share her expertise within this field.
Dr. Mike Wragg - Dr Mike Wragg is Senior Lecturer in Childhood Development & Playwork at Leeds Beckett University, where he is also Link Tutor for a range of postgraduate courses in play therapy. Dr. Wragg is Chair and founder of the charity Play Bradford, which incorporates a number of playwork projects including the Big Swing adventure playground. He is also Chair of the play facility supporting children of incarcerated relatives at HMP New Hall. Dr. Wragg's doctoral research explored how commercial organisations that use play, enhance creativity and innovation in the corporate sector.
Each panelist will be giving a short talk each, followed by a joint Q&A.
The webinar is free and open for anyone to attend.
The session will be recorded for attendees to be able to rewatch it.
If you have any questions about the event, please direct them to Katherine Lindsay Dunlop on katherine.lindsay@playboard.co.uk or give us a call on 028 9080 3380.