Description
April SPARK: Sometimes it can be hard to get honest, reliable, and relevant feedback on your online freelance presence. Tune in this month for roundtable community feedback on your website and social media, and be ready to offer critiques as well. This will be a Zoom event. Link: https://us04web.zoom.us/j/447616309 Meeting ID: 447-616-309

---
SPARK Orlando
SPARK is built on the premise that we're stronger together than we are on our own.
The national conversation is live at #FreelanceSPARK. Join us in a whole bunch of cities across the country! And follow us on Instagram!
Quick tips:
Yes, this event is for freelancers of all industries. We're all connected by our efforts to succeed in the gig economy.

No, this event will not be taped- it's a meetup!
---
SPARK Orlando is brought to you by: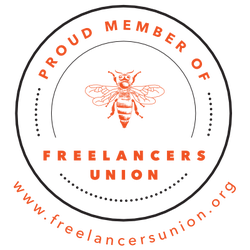 Freelancers Union
Freelancers Union is a membership organization that provides benefits, resources, and advocacy for 425,000 independent workers nationwide. To learn more or join, visit freelancersunion.org. Membership is free.