Taylor Baker, "Marketing Machine" discusses what it takes to establish marketing trends & strategic framework in the beltway!
About this event
Taylor has been with OnPoint since 2018, enhancing her role specializing in on-boarding and client services, developing marketing and social media strategies, media editing, and more. In 2016, Taylor graduated from Radford University with a degree in Studio Creative Arts with a concentration in oil painting and a minor in Business Advertising Marketing. Taylor is a Washington Capitals & Nationals fan and enjoys painting, cooking, cycling, and reading. She enjoys networking and building trusting relationships with her employees.
OnPoint Consulting, Inc (OnPoint) is the national security arm of Publicis Sapient, delivering secure IT infrastructure, enterprise systems, and solutions for the U.S. federal government. Our specialized strategy, cyber, and technology capabilities are changing the way our clients improve performance, effectively deliver results, and manage risk. OnPoint holds ISO 9001:2015, ISO 20000-1:2018, ISO 27001:2013 certifications, and CMMI Maturity Level 3 ratings for both Services and Development.
Pete Tseronis is the CEO of Dots & Bridges which provides an expansive suite of professional services to assist its clients throughout the business lifecycle. Rooted in relationship building, Dots and Bridges helps businesses crystalize their value proposition and differentiate their service offerings which leads to greater customer acquisition. Whether a new startup, a mature company, or a global entity, Dots and Bridges aligns technology capabilities with an organization's unique mission. Enabling today's emerging technologies to become tomorrow's growth sectors is the Dots and Bridges differentiator. An accomplished entrepreneur, business executive, and cybersecurity strategist with 30+ years leading myriad Cabinet-level and commercial entities, Pete maintains a passion for collaborating with government, industry, investor, and academic ecosystems to unearth and stimulate transformative innovation while increasing private-sector commercialization.
As the Department of Energy's (DoE) first-ever appointed Chief Technology Officer (CTO), Pete served as an innovation advocator for technology transfer of intellectual property, was an effective and credible collaborator across the international research and development community, and leveraged intellect within the national laboratory enterprise to catalyze economic competitiveness.
Pete founded Dots and Bridges LLC to satisfy his appetite for connecting dots, building bridges, and nurturing relationships. Pete is a father of four, trusted thought leader, educator, interviewer, colleague, and friend.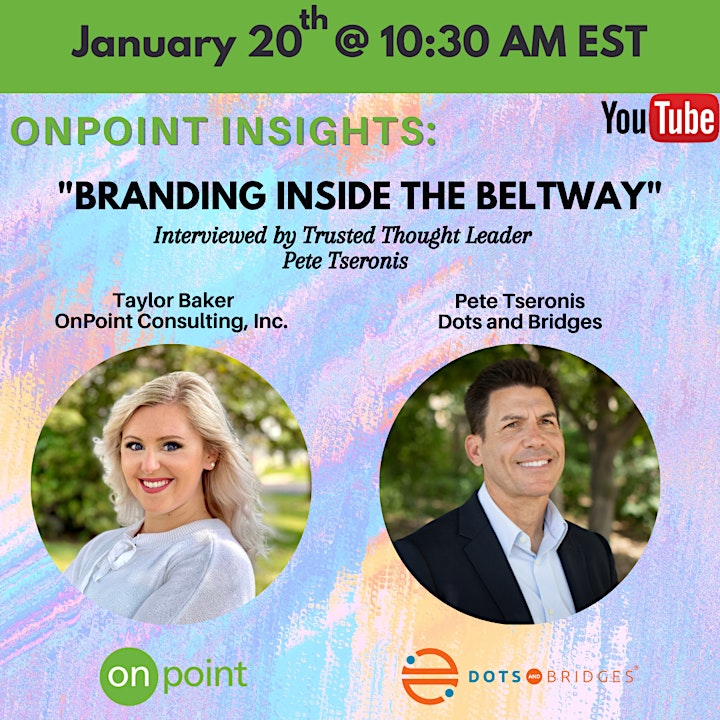 Organizer of WEBINAR: OnPoint Insights: "Branding Inside the Beltway" Episode 5