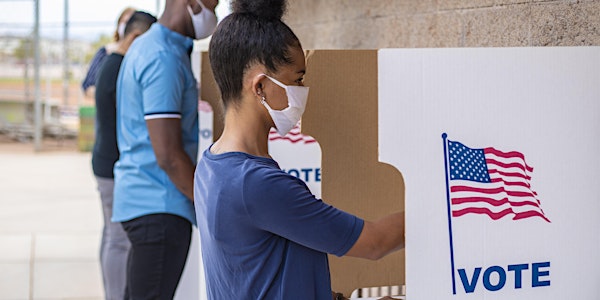 Webinar on Civic Health
A webinar on voting as a social determinant of health, levers available to support voting, and seizing the moment and providing resources-
About this event
This webinar educates professionals on voter registration as a legal, ethical, and effective intervention in healthcare. Nonpartisan, research based, and clinically appropriate civic engagement tools are provided to participants. These tools are easily integrated into daily workflows and examples of how healthcare institutions are using them is provided.
Healthy Democracy Healthy People (HDHP) is a non-partisan coalition with the overall aim of advancing health and racial equity by strengthening civic and voter participation and ensuring access to the ballot for all eligible voters. The HDHP approach is centered on three practices shown to build power including: organize people and organizations, organize narrative and data, and organize policy and resources.
Vot-ER is a nonprofit nonpartisan organization with a vision for healthy communities powered by a healthy democracy. Its mission is to expand the electorate through better civic engagement in the healthcare sector. Vot-ER currently has programs in over 500 hospitals and clinics and helped more than 47,000 Americans to vote.
Additional information can be found here, on the event's webpage.
Disclaimer: This registration information is being collected via Eventbrite. Eventbrite is not affiliated in anyway with, or endorsed by, the National Academies of Sciences, Engineering, and Medicine, and your submission via the Eventbrite website is subject to Eventbrite's privacy and terms of use.