WEBINAR: Offering Pre-Exposure Prophylaxis (PrEP) in Rural Communities
Description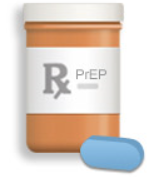 Offering Pre-Exposure Prophylaxis (PrEP)
in Rural Communities
In recogniton of World AIDS Day, please join HRSA's Office of Regional Operations in Region 5 - Chicago for a webinar on Offering PrEP in Rural Communities. We are at an exciting time in history as we now have an opportunity to end the HIV/AIDS epidemic. Primary Care Providers offering PrEP is one way that will allow us to make great strides in prevention of new HIV infections. Please join us to learn how two rural healthcare providers are increasing PrEP access in their communities

Date: December 5, 2019

Time: 10:00 am - 11:30 am EST/9:00 am - 10:30 am CST
Featured Speakers
Alison Mauro,

Infectious Disease Educator, Cherry Street Health Center (over 20 sites in MI), Grand Rapids, Michigan
Paula J. Clark, Division Director of HIV Services (provides services in 19 counties of southern IL), Jackson County Health Department, Murphysboro, Illinois
Who Should Register?
HRSA Grantees

Health Centers/Clinics

Primary Care Associations

Departments of Health

Primary Care Service Providers

Rural Health Clinics

HIV/PrEP Services Organizations

Tribal Entities

Maternal and Child Healthcare Providers

Faith-based Organizations
All who register will receive a link to the recording.
For more information, contact Amanda Waldrup at AWaldrup@hrsa.gov.