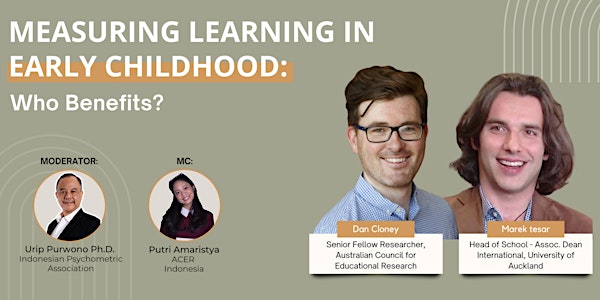 Webinar: Measuring Learning in Early Childhood
Webinar - Measuring Learning in Early Childhood: Who Benefits?
About this event
Learning in the early years represents a part of a longer learning progression – regardless of the institution, it is essential that educators know what children can currently do and where they would like them to go next.
This webinar will serve as a forum for the experts to discuss about the holistic nature of learning, challenges in assessing key development areas of early childhood, and also in creating good quality assessment for educators.
Because every child have the right to the best possible start in this life, which paves the way for a wonderful life.
Join us on Wednesday, 17th August 2022 10.00 - 12.00 WIB
Register yourself through this link bit.ly/measuringECE
The discussion will be conducted in English, transcription will be provided. See you at the webinar!