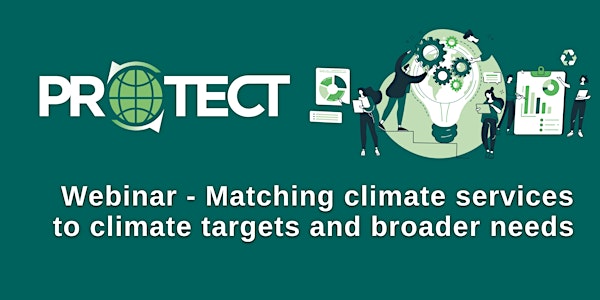 Webinar - Matching climate services to climate targets and broader needs
The PROTECT project is thrilled to announce the launch of its very own training curriculum on Innovation procurement and climate services.
Date and time
Wednesday, April 5 · 2 - 3am PDT
About this event
PROTECT's curriculum will explore the wide range and scope of climate services and provide a comprehensive overview of the practical and advanced aspects of pre-commercial procurement in this field. The aim of the curriculum is to provide public procurers on EU, national, regional, and local levels with practical guidance and advice on how to effectively utilize innovation procurement to address their climate-related issues.
Matching climate services to climate targets and broader needs. Webinar agenda:
How can we better identify our main needs that could be addressed through Climate services (CS)?
How can we better understand how the CS market might help us?
Which parts of our organisations should we involve in this exercise beyond climate units?
How could climate services help with needs that are not primarily driven by climate objectives?
How can we structure and formulate our needs into clearer demand to the CS market?
How to better identify the range of climate services that might be relevant to your needs, when those needs are not so easy to define comprehensively
Learn more about the PROTECT training curriculum.
Follow us on social media and stay tuned to our website for upcoming announcement!
Website: https://www.protect-pcp.eu/
Twitter: https://twitter.com/EU_PROTECT
LinkedIn: https://www.linkedin.com/company/eu-protect/