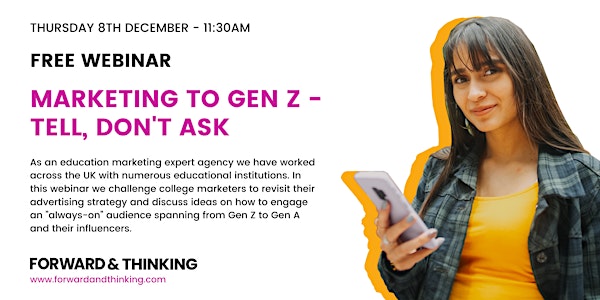 WEBINAR: "Marketing to Generation Z - Tell, Don't Ask"
Join our exclusive free webinar on college advertising strategies and ideas on how to engage an "always-on" audience from Gen Z to Gen A.
About this event
*Make sure to click the link to sign up for our webinar.
https://www.forwardandthinking.com/webinar-marketing-to-genz/telldontask
Join our Sales Director, Darren Clewes in this exclusive free webinar. Darren, our education marketing expert, has worked with numerous educational institutions. In this workshop, he purposely challenges college marketers to revisit their advertising strategy and discuss ideas on how to engage an "always-on" audience spanning from Gen Z to Gen A and their influencers.
Our Group Sales Director showcases his enthusiasm in his work from his industry knowledge. With 25 years of experience, he knows to stay ahead of trends. His knowledge provides clients with invaluable recommendations and joined-up media solutions. Darren's account management is open, honest and results-driven, with campaigns shortlisted in the Prolific North Marketing Awards.