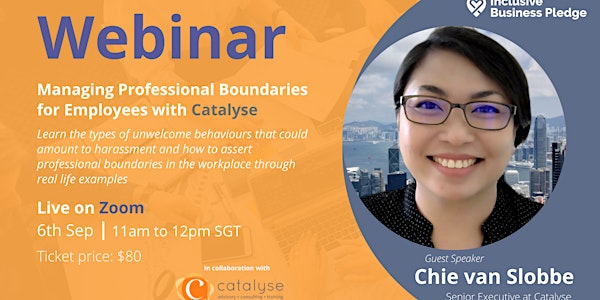 Webinar: Managing Professional Boundaries for Employees with Catalyse
Find out more and get tickets here: https://www.inclusivebusinesspledge.asia/webinar-managing-professional-boundaries-for-employees
About this event
Why should I attend?
This webinar is for all employees where we begin with basic definitions of the types of unwelcome behaviour that could amount to harassment. We pepper the session with real-life examples drawn from our experience of supporting people involved in workplace harassment incidents.
We provide a practical, step-by-step guide to asserting professional boundaries in the workplace, including tips on what to say, how to react and where to seek help. We emphasise working collaboratively with Managers and/or HR to find the most appropriate solutions, and how to draw upon their power as influencers to maintain respectful and inclusive workplaces.
After the webinar it is expected that the participants will:
● Understand the term harassment and identify unwelcome behaviours
● Become more aware of the impact of their behaviour on others
● Explore different ways of asserting professional boundaries
● Know how to use their power as an influencer
Who should attend:
-Managers of employees seeking to provide a better working environment.
-Employees seeking to obtain better boundaries within the workplace.
-DEI and HR leaders in responsible for DEI in their organisation.
-DEI champions who may not have direct DEI responsibilities within the organisation.
-Anyone interested in fostering DEI in their organisations.

When is the webinar?
6th September 2022, 11am-12pm SGT
Where will the webinar be held?
On Zoom
How much does it cost?
$80/Seat
Go to https://www.inclusivebusinesspledge.asia/webinar-managing-professional-boundaries-for-employees to purchase tickets
Speaker Profile:
Our guest expert is Chie van Slobbe!
Chie is a highly experienced learning professional with a demonstrated history of delivering high impact and relevant learning solutions.
She has a strong background on learning consultation, development and delivery enhanced by her experience of working with different organisations on regional and global levels. Her expertise is on train-the-trainer programmes which was honed by her experience as a master trainer for HSBC's core leadership programmes, where she supported 21 markets across the Asia Pacific Region.
A graduate of the Philippines' prestigious University of the Philippines, she started her career in the airline industry before moving into a relationship management role in the banking industry. Her success as frontliner allowed her to transition to her first ever learning role as a sales and relationship management trainer. This in turn, led to a one-year stint in Vietnam which opened the doors for her to move to Hong Kong and become a leadership facilitator. Her work in the Diversity and Inclusion space, particularly the rollout of the Inclusive Leadership programme in Standard Chartered Bank, paved her connection with AWARE where she started as a volunteer a year after moving to Singapore with her family.
Chie is a certified IECL Level 2 Organisational Coach, and an accredited trainer for Everything DiSC, Facet 5 and a Human Centred Design Practitioner.
Aside from supporting Catalyse's business operations and facilitating some of its programmes, she supports foreign domestic workers in Hong Kong and Singapore by volunteering as a coach and mentor with Uplifters.