WEBINAR: Magnetic Business Attraction Webinar

Sunday, November 11, 2018 from 1:00 PM to 3:00 PM (EST)
Event Details
 

Magnetic Business Attraction 

For Business Owners

Date: Sunday 11/11/18

Time:  1PM ET | 9AM PT

(When Angel Number 1111 appears repeatedly it signifies
that an energetic gateway has opened up for you,
and this will rapidly manifest your thoughts into reality.)

Great time to join us for a webinar about manifesting!
 ____________________________________________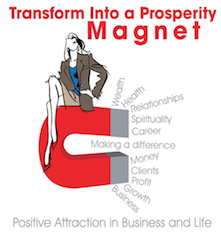 Small business owners, this webinar is for YOU!
Gain new insights to help you
evolve into an unstoppable intuitive leader and entrepreneur!


Learn the following in this information packed webinar:
Why Magnetic Business Attraction works and how to use it in your business to enhance sales, service, leadership, and communications. 

How integrating intuition and practical law of attraction in your business gives you the leading edge in decision-making, goal setting, inspired action and relationships.

How mindset, mindfulness and awareness influences results in all we do.

How affirmations can work for you or against you and why!  

How your reactions to stressful events affects your health and influences outcomes.

How your words and phrases attract or repel what you want in person, in your speech and writing.

How to identify self-sabatoging blocks that affect success in business, career and life and how to dissolve them.

An easy-to-use Magnetic Attraction Business Action Plan to set the energy for projects and goals.

Magnetic Business Attraction tools to assist in elevating your vibrations and influence your leadership behaviors. 

Presenter
Terry Wildemann
Speaker, Author, Certified Coach

Terry helps mission driven business owners create thriving socially conscious businesses.  The more you focus on your intuition, and how to implement goals with viable strategies and positive energy and focus, the faster we can shift our economy and make a difference.


---
Begin Creating Business Prosperity NOW!

E

asily shift into positive vibes that influence your business, clients, co-workers, employees and family. Your refreshed mindset influences your leadership, communications and decision-making improving relationships, wealth and health.
Ready to learn how to work with Magnetic Business Attraction?
Come prepared to work, focus and achieve!
---
Yes, I'm IN for the
Magnetic Business Attraction Webinar 
$49.00
50% of your tuition goes to the
Rhode Island Food Bank and Martin Luther King Center
to help heal hunger.
---



Look at what others have to say!
Jeanne Evans, Promotion With Motion
"Terry will work you! Her workshop is very structured. You begin right away by examining yourself, your dreams, your strengths, your weaknesses, and especially your self-worth. The discovery throughout the program is truly remarkable; one feels the collective energy in the room ignite. That flame entices other weary travelers and renews the spirit. Tears become Cheers."

Patricia Cerchio-Vieira, Life Transition Facilitation
"Terry is a phenomenal coach and that is probably an understatement. She is uniquely skilled in getting to the heart of your professional or personal issues, in many cases revealing that the true issue is not what you originally thought. Not only does she help you identify your true issues, she can break through them using EFT (Emotional Freedom Technique) so quickly and effectively you won't hardly know what happened. You won't be disappointed. WARNING: Only go to Terry if you are ready to take your Business or yourself to the next level."


Kenneth Proudfoot, Full Time Writer
"Terry loves people and loves to see people succeed. She is passionate and energetic and puts 200% into her teaching, coaching, and caring for her clients and friends.  
She will expand your universe and help you better understand all of the gifts and talents you have. Best of all, she will show you how to reach your potential. 
If you are looking for a better and more fulfilling life, call on Terry and begin!" 

Save This Event
Organizer
Terry Wildemann
Facilitator and Coach for Entrepreneurs and Intuitive Leaders.

In the leadership and professional development industry for over 30 years,  Terry Wildemann, gets to the root of her clients self-sabotaging issues with her seasoned and expert business and career building wisdom and coaching. Terry's clients quickly gain clarity, improve self-esteem, personal and workplace performance and communications leading to increased business growth and profit.  Certified as an executive, co-active and stress resilience coach, Law of Attraction trainer, professional behavior analyst, NLP and EFT coach, Terry has presented and worked nationally and internationally with thousands of professionals and entrepreneurs in the military, for profit and non-profit companies, holistic and small businesses. She owned a holistic education and leadership center, a manufacturing company and image management company.

Terry is best selling author of:

The Enchanted Boardroom: Evolve Into An Unstoppable Intuitive Leader (Nov. 2016)

The Innovators (March, 2017) co-authored anthology

Unlock the Power of You – (December 2013) co-authored anthology

1-800 Courtesy; Connect With a Winning Telephone Image (June 1998)
Terry's next book releases in September 2018.