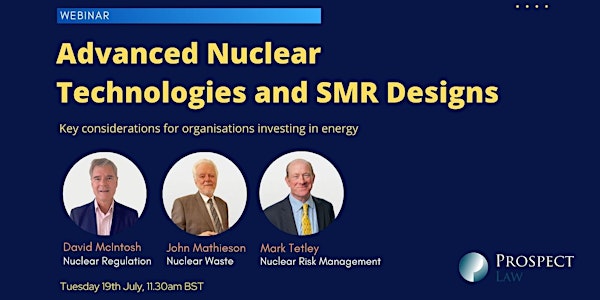 Webinar: Key Considerations in Advanced Nuclear Technologies & SMR Designs
For all organisations looking to better understand the impact of advanced nuclear technologies and SMR designs and what questions to ask.
About this event
Webinar, Tuesday 19th July, 11:30am - 12:30pm UK
Developments in advanced nuclear technologies (ANTs), and particularly in small modular reactor (SMR) design, are frequently defined as "game changing".
Understanding quite how those "changes" affect investment decisions can be complex, particularly in a global energy sector that is experiencing immense uncertainty, risk and opportunities driven by national energy security concerns, global supply and price volatility, climate change and net zero targets.
Organisations that are considering investing in, supporting or working with ANTs are faced with a great deal of complexity and uncertainty.
This free webinar aims to clarify some key issues investors need to take into account. It will help organisations understand some of the important questions they need to ask in order to clarify decision making and reduce uncertainty.
AGENDA
Prospect Law's nuclear energy specialists will highlight key considerations in nuclear regulation and licensing, nuclear waste management, and risk and liability:
Regulatory and licensing considerations
Are the current national legislative and regulatory systems capable of dealing with advanced nuclear technologies?
What are the comparisons between countries with established nuclear power plants and those newcomer countries with no nuclear heritage?
What is the process for developing new, fit-for-purpose legislative and regulatory frameworks?
Radioactive waste considerations
Has sufficient account been taken by the vendor and the customer on what to do with the radioactive nuclear waste and spent fuel?
Have financial and technical aspects of decommissioning and spent fuel management been adequately addressed?
Will any designs generate novel waste forms which may compromise repository safety?
Risk and liability considerations
Will the current nuclear third party liability regimes need to change to accommodate advanced nuclear technology?
How will these technologies measure up against current technology for susceptibility to insurance claims, security, cyber or terror threats?
Will the risk profile allow public opinion to accept advanced nuclear technologies?
FOR MORE INFORMATION ON SPEAKERS AND HOW TO REGISTER