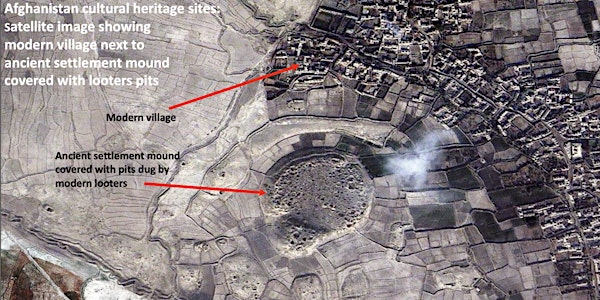 Webinar: Integrative Perspectives in Remote Sensing for Archaeology
Integrative Perspectives in Remote Sensing for Archaeology and Heritage Preservation in Afghanistan
About this event
Conference Date: One-Day Conference Monday, December 12, 2022
Start Time: 9:00 AM US Central Time/15:00 GMT/16:00 Central European Time
Organizers: Gil Sein, Tony Lauricella, and Andrew Wright
Conference Description:
From 2015-2022, the Afghan Heritage Mapping Partnership (AHMP) has worked with the Afghanistan Institute of Archaeology (AIA), using satellite imagery to discover and document the archaeological sites of Afghanistan, in a project funded with support from the US Department of State and the US Embassy Kabul. AHMP's work accomplishes multiple goals: a) preservation of heritage through documentation, b) generation of fundamental data for archaeological research, c) remote monitoring of looting and other site damage, and) training and capacity-building for the AIA. The papers in this conference present some of the major results of the AHMP's work, and its connections to complementary work by other projects to produce regional-scale documentation of archaeological sites and settlement in Afghanistan.
Register in advance for this webinar:
https://uchicago.zoom.us/webinar/register/WN_XEDUgN9-RtipHiQak2KYEw
After registering, you will receive a confirmation email containing information about joining the webinar.
PROGRAM SCHEDULE
Welcoming Remarks:
9:00-9:05 Gil Stein -Chicago Center for Cultural Heritage Preservation
9:05-9:10 Laura Tedesco – US department of State
9:10-9:15 H. Birali Runesha Director, University of Chicago Research Computing Center
Papers:
9:15-9:20 Gil Stein-
Overview of the Afghan Heritage Mapping Partnership 2015-2022
9:20-9:40 Teodora Szasz, Ian Jeong, Tony Lauricella, and Andrew Wright –
The OI-RCC collaboration-Results of the Development of a Deep Learning Model for archaeological site identification
9:40-10:00 Tony Lauricella –
Remote Sensing Monitoring of Recent and Ongoing Site Looting in Afghanistan
10:00-10:20 Andrew Wright –
Remote sensing of Ancient Water systems in Afghanistan
10:20-10:30 (Break)
10:30-10:50 Harrison Morin –
Regional Perspectives on Afghanistan in Late Antiquity: Greco-Bactria and the Kushan Empire
10:50-11:10 Gwendolyn Kristy –
Remote sensing, sites-at-risk, and modern Urban Growth in Afghanistan
11:10-11:30 Emily Boak –
Caravanserai Networks and Trade Routes of the "Gunpowder Empires" in Afghanistan
11:30-11:50 Warwick Ball –
The Archaeological Gazetteer of Afghanistan
11:50-12:10 Noor Agha Noori –
The TAPI Natural Gas Pipeline – A Cultural Resource Assessment
12:10-12:30 Mehrnoush Soroush –
Discussant's Comments
12:30-1:00 Roundtable Discussion followed by Q and A