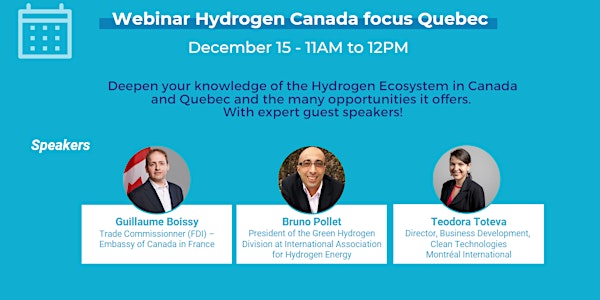 Webinar Hydrogen Canada focus Quebec
Deepen your knowledge of the Hydrogen ecosystem in Canada and Quebec and the many opportunities it offers.
About this event
In this Webinar you will have access to detailed presentations & Q&A opportunities about:
- Hydrogen in Canada: Federal Strategy, orientations, H2 Projects and incentives.- Hydrogen Quebec présentation: Quebec Stakelholders, their needs and plans for futur of H2.
- Highlights on Quebec's assets in the hydrogen sector: Technical overview, state-of-the-art of H2/Industrial ecosystem, innovation ecosystem, technology needs.
- Montréal area, H2 opportunities, and why setting up in Montreal can make sense for your H2 Projects.
The replay of this session is only available for Hydrogen ConneXion Members.