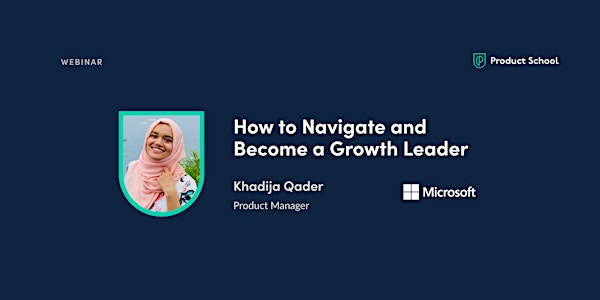 Webinar: How to Navigate and Become a Growth Leader by Microsoft PM
Product School hosts free daily Product Management events with top professionals who are there to help you level up your career
About this event
DISCLAIMER: Register here to watch the stream or access the replay
No one becomes a good Product Manager in a day. But we help you look inside the minds of great PMs to understand the mindset that makes them succeed. Because Product Management isn't just a role, it's a worldview, a set of skills that guide the way you think, and most importantly: lead.
Main Takeaways:
Consciously carve your path into the field with your passion, decisions and execution.
Aggressively build experience and expertise.
Think big and hustle for your vision.
Come join us on Launch! Product School's exclusive community for Product People to learn, exchange ideas and build better together.
Meet the Speaker: Khadija Qader

Khadija has 8+ years of Product Management experience. Currently, she is a Product Manager at Microsoft
Get the FREE Product Book and check out our curated list of free Product Management resources here

Product School is the global leader in Product Management training with a community of over one million product professionals. Our certifications are the most industry-recognized credentials by employers hiring product managers. All of our instructors are senior-level Product Managers working at top Silicon Valley companies including Google, Facebook, Netflix, Airbnb, PayPal, Uber, and Amazon.
Disclaimer: by registering for this event I agree to receive email communications from Product School and all sponsor brands.