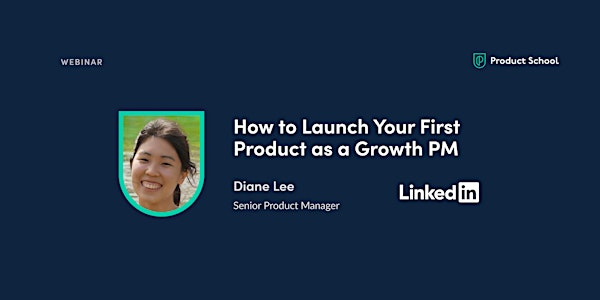 Webinar: How to Launch Your First Product as a Growth PM by LinkedIn Sr PM
Product School hosts free daily Product Management events with top professionals who are there to help you level up your career
About this event
DISCLAIMER: Register here to watch the stream or access the replay
This talk is targeted at Growth Product Managers who have just started a new role and want to learn how to crush their first product launch as a Growth PM. In this talk, we will walk through a common example of a Growth PM project, optimizing your product's homepage, and review key frameworks for a successful first product launch.
Main Takeaways:
Developing a clear understanding of the goal of your product launch
Understanding your audience and the user pain points you're solving
Come join us on Launch! Product School's exclusive community for Product People to learn, exchange ideas and build better together.
Meet the Speaker: Diane Lee

Diane is currently a Senior Product Manager at LinkedIn. Prior to this, Diane worked at Coursera and Khan Academy.
The content of this event is for educational purposes only and does not include any specific facts of the presenter's current or previous company. The opinions expressed in this event are solely those of the presenter based on personal experiences and do not reflect those of the company the presenter works for.
Get the FREE Product Book and check out our curated list of free Product Management resources here

Product School is the global leader in Product Management training with a community of over one million product professionals. Our certifications are the most industry-recognized credentials by employers hiring product managers. All of our instructors are senior-level Product Managers working at top Silicon Valley companies including Google, Facebook, Netflix, Airbnb, PayPal, Uber, and Amazon.
Disclaimer: by registering for this event I agree to receive email communications from Product School and all sponsor brands.