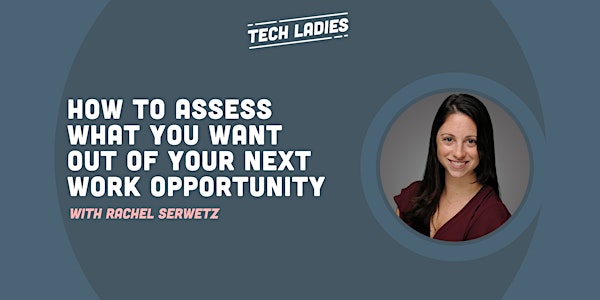 *Webinar* How to Assess What You Want Out of Your Next Work Opportunity
Gain clarity on what you want next from your career
About this event
"Career exploration" is a phase that comes before any job search, whereby you can pursue a practical process to not only explore, but clarify with confidence what it is that you want or need in your next job. No job is perfect, but knowing what you want (or don't want) is critical before entering into any applications or interviews. In this talk, Career Coach Rachel Serwetz will guide you to get to know yourself as well as get to know your career options so you can feel informed and intentional before you dive into your next job search. We will define and outline the step by step process of learning and reflecting so you can narrow in on your best fit role, industry, and environment, and even include an interactive self-reflection exercise to hurl you directly into the exploration process.
Why this facilitator?
Rachel Serwetz' early professional experience was at Goldman Sachs in Operations and at Bridgewater Associates in HR. From there, she was trained as a coach at NYU and became a certified coach through the International Coach Federation. After this, she worked in HR Research at Aon Hewitt and attained her Technology MBA at NYU Stern. Throughout her career, she has helped hundreds of professionals with career exploration and for the past 4.5 years she has been building her company, WOKEN, which is an online career exploration platform to coach professionals through the process of clarifying their ideal job and career path. She is also an Adjunct Professor of Entrepreneurship at Binghamton University and has served as a Career Coach through the Flatiron School/WeWork, Columbia University, and Project Activate.
Learn more about WOKEN here: iamwoken.com.
Details/Info:
We will email you login upon registration, one week, 1 day, and 1 hour before the event.
FYI: Ticket sales stop at 10am PT/1pm ET to ensure everyone gets log in info
Don't see your sign in link? Check your SPAM for an email from Tech Ladies or Eventbrite.
Still don't see it? Drop a line to webinars@hiretechladies.com
YES, webinars are recorded! If you buy a ticket, we'll send you a recording to watch approximately 1 week after it airs.
Please also note that we are unable to provide refunds after the webinar has ended.
A note on Tech Ladies Events:
Tech Ladies events are open to all genders.
Please review our Code of Conduct before attending a Tech Ladies event.
Interested in what we're doing? Join Tech Ladies