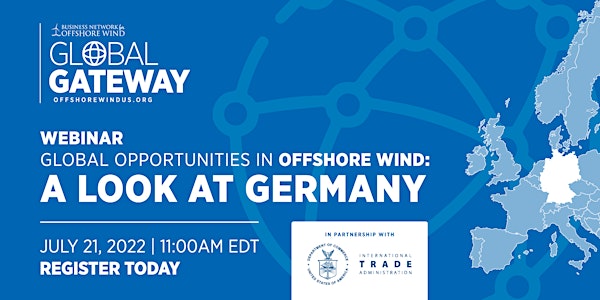 Webinar | Global Opportunities in Offshore Wind: A Look at Germany
Learn about business opportunities in the German offshore wind market, as well as the Global Gateway trip to WindEnergy Hamburg.
About this event
Business Network staff and guest speakers from German businesses, organizations, and government will discuss the German offshore wind market and opportunities available for businesses to export their products and services. Learn about the next Global Gateway delegation trip to Hamburg, Germany to attend the WindEnergy Hamburg conference, taking place September 27-30, 2022.
This is the first webinar in a new series that explores country-specific opportunities in the global offshore wind marketplace. The series is part of Global Gateway, a program offered by the Business Network for Offshore Wind that directly connects U.S.-based companies to the international offshore wind marketplace and supply chain. Through market overviews and organized delegation trips to key markets in Europe, Asia, and South America, Global Gateway provides you access to our in-depth offshore wind knowledge and international introductions that will help accelerate the export of your products and services on a global scale. 
Guest Speakers:
Brittany Banta, Commercial Attaché, U.S. Embassy Berlin
Michael Jackson, Senior International Trade Specialist, U.S. Commercial Service | International Trade Administration
Heike Winkler, Managing Director, Wind Industry Association and Hydrogen Network WAB e.V.
Astrid Dose, Deputy Managing Director, Renewable Energy Hamburg
Bruce Cole, President, McNabb Marketing Resources, Inc.
Upcoming Network Events