Follow The Lead is a digital marketing webinar class by advertising expert Nick Hiersche who is Facebook and Google Ads Certified.
About this event
Follow The Lead Live takes you on a journey of understanding the importance of leads and how to generate those leads. Managing leads is just as important as generating them, following the lead is key. 12 year advertising expert Nick Hiersche uses his experience and Certifications from Facebook and Google Ads to show how to follow the lead!
Supercharge your business by learning to generate and automate your own lead generation machine from certified experts. Growing your company with a marketing mix that includes paid lead generation should be the goal of every business for 2020.
Platforms such as Facebook, Instagram, Google Search, and YouTube have made reaching customers an almost instant process. For those that can navigate these platforms the rewards can be tremendous, with qualified leads from perfectly targeted campaigns able to scale at levels never before available to the average business person. Learn how to generate your first leads & tricks from the pros to set up an automated lead generation machine on any budget.
Keynote Speaker: Nick Hiersche - Certified Facebook & Google Ad Specialist from Follow The Lead Ad Agency
Hosted by: Kyle Hiersche - RealEstateLive.Events
Powered by: Bankers Title and Escrow Services & RealEstateLive.Events
Sponsored by: Miami Real Estate Agency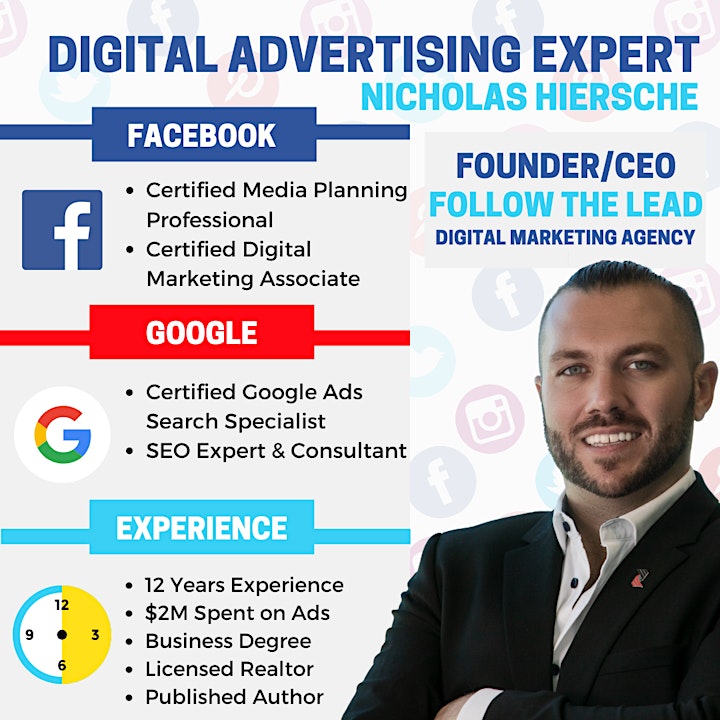 Join the Future of Real Estate - Miami Real Estate Agency
Now Accepting Florida Real Estate Agents!
Our Team Members Receive:
100% Commission
No Monthly Fees
Instant Agent Portal Access
Instant IDX Lead Gen Website
Instant Free CRM
Instant Smart Phone Number
Instant Virtual Office & Fax
Instant eSign & Contract Access
Instant Payouts via Bank App
Revenue Share Vested for Life
Use Matterport Cameras Free
Organizer of Webinar | Follow The Lead Live: Digital Marketing Class
Real Estate LIVE offers events and trainings to learn new skills and network with Realtors, Loan Officers, and other real estate professionals! Learn and follow along with real estate and marketing experts to get practical experience utilizing today's technology to boost your business. Events are open for registration at https://realestatelive.events
Register for the 2nd Annual Real Estate Weekend Miami Conference Here: https://realestateweekendmiami.com/