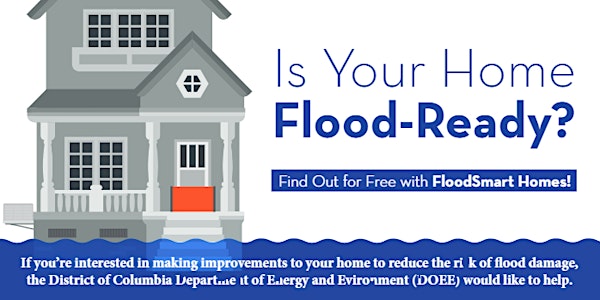 Webinar: FloodSmart Homes
Learn about the FloodSmart Homes incentive program, which helps residents reduce and limit the impacts of floods & flood-related damages.
About this event
The District Department of Energy and Environment (DOEE)'s Regulatory Review Division (RRD) offers a voluntary incentive program to residents to reduce and limit the harmful impacts of floods and flood-related damages to residential homes. It has been shown that flood resilience upgrades installed on residential properties is an effective way to reduce flood damages and promote sustainable development in urban environments.
The FloodSmart Homes program consists of three steps:
Property owner expresses interest in resilience upgrades.  
In-home resilience assessments are conducted, and a report is generated. 
Property owner agrees to upgrades, and resilience upgrades are installed at the property owner's home.