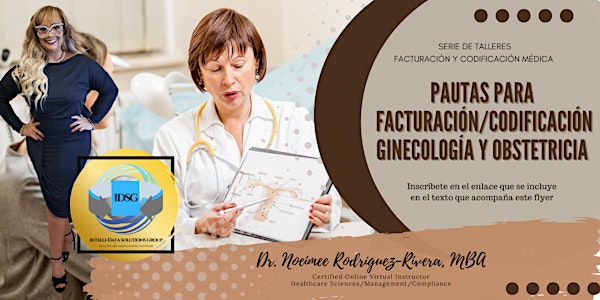 Webinar: Facturación y Codificación Médica Ginecología/Obstetricia
Webinar: Facturación y Codificación Médica Ginecología/Obstetricia
Refund Policy
Contact the organizer to request a refund.
Eventbrite's fee is nonrefundable.
About this event
El facturador y codificador de Ob/Gyn debe tener la capacidad para leer y resumir notas de consultorio médico y notas operativas para aplicar las asignaciones correctas de codificación de modificadores, ICD-10-CM, CPT, HCPCS Nivel II, Evaluación y administración (Directrices de documentación de 1995 y 1997).
También debe conocer reglas y regulaciones de facturación de Medicare y aseguradoras comerciales que incluyen (pero no se limitan a):
Incidentes
Situaciones de enseñanza
Visitas compartidas
Consultas
Cirugía global
Codificación de los servicios obstétricos, incluida:
Atención pre-parto (pre-natal)
Partos
Atención pos-parto
Codificación de procedimientos quirúrgicos realizados por médicos OB/GYN como:
Histerectomía
Esterilizaciones
Biopsias
Colpopexia
Otros
Terminología médica
Anatomía y fisiologíaRegístrate y aprende con nosotros.