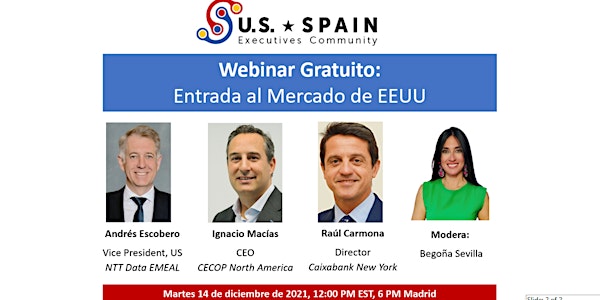 Webinar: Entrada al Mercado de EEUU
En este webinario tendremos la oportunidad de aprender de las experiencias de tres expertos en la entrada al mercado estadounidense.
By US Spain Executives Community
Date and time
Tuesday, December 14, 2021 · 9 - 10am PST
About this event
Los panelistas están ubicados en tres ciudades diferentes (Washington DC, Miami y Nueva York) y actuán en tres sectores (Consultoría, Retail y Banca). Habrá oportunidades para los asistentes de realizar preguntas al final del evento.
Todos los integrantes del panel y la moderadora son miembros de USEC. Se muestran sus bios a continuación.
Andrés Escobero
Andrés Escobero es Vicepresidente Comercial en la US Branch de NTT Data EMEAL. Tiene más de 20 años de experiencia en empresas globales de tecnología y ha sido distinguido con la mención "100 principales hispanos en tecnología de la información en los EE. UU". Antes de este puesto, fue Vicepresidente Senior de GMV Innovating Solutions. Anteriormente, ocupó diferentes puestos ejectutivos en Sun Microsystems donde lideró equipos en los EE. UU., Europa, Asia y América Latina, recibiendo diferentes menciones y premios a la excelencia empresarial y gerencial. Es Ingeniero de Telecomunicaciones por la Universidad Politécnica de Madrid, ha cursado programas de dirección en Harvard Business School y ha sido profesor asociado en la Universidad Carlos III.
Ignacio Macías
Presidente de Consejos de Administración Internacionales y CEO en CECOP Norte América para una empresa de desarrollo y despliegue en la industria óptica. +20 años de experiencia ejecutiva en fusiones y adquisiciones, operaciones y Membresía en Junta.
Ha cerrado más de 40 transacciones estratégicas de tecnología con varias salidas exitosas. Activo inversor en tecnología y consultor de gestión con experiencia en implementación y estrategia EOS. Anterior Fundador y CEO de Consultoría en Gestión de la Salud que se vendió por 40x MOIC. Profesor de Marketing Estratégico Internacional en IE Business School Top 5 International MBA.
Raúl Carmona
Licenciado en Derecho por la Universidad S. Pablo CEU con los programas especiales de Jurídico-Empresariales y Derecho Comunitario. Posgrado en Práctica Jurídica por la Universidad Complutense. Executive MBA en IESE Business School.
22 años en banca con 14 años con responsabilidades de dirección en oficinas internacionales en Polonia, Chile y Estados Unidos. Actualmente Director de la Oficina de Representación de Caixabank en Nueva York. Miembro del Consejo de la Spain-US Chamber of Commerce New York.
Evento moderado por Begoña Sevilla
Periodista internacional española con más de 15 años de experiencia galardonada con 7 premios Emmy de la Academia de Televisión, EE.UU. Ha sido presentadora y reportera de investigación para Univisión en Las Vegas, Nevada. Ha recibido el Emmy a la Mejor Presentadora de Noticias y la Mejor Reportera, entre otros. Ha sido productora ejecutiva y corresponsal internacional para La Voz de América en la capital del país, Washington, DC. donde recibió 3 Emmy Awards por su excelente labor.
En España es una reconocida periodista con amplia experiencia en los canales de televisión nacionales TVE, T5 y A3 Noticias, radio y otros medios. Como experta en comunicación y social media, es manager y estratega en Comunicación para la multinacional Iberdrola-AVANGRID en su cuartel general en Connecticut.